Your Canon EOS Rebel T7i/800D camera is equipped with a feature that allows you to play your pictures and movies on an HDTV screen. However, you need to purchase an HDMI cable to connect the camera and television; the Canon part number is HTC-100.

Before connecting the two devices, make sure that the Video System option on Setup Menu 3 is set to the video standard used in the region in which you're screening your work. In the United States, NTSC is the standard; in many European countries, PAL is required. (The correct setting should have been set at the factory, but if you purchased your camera in another country, you may need to change the setting.)

Next, turn the camera off. Connect the smaller end of the HDMI cable to the HDMI port and connect the other end to the HDMI terminal on your TV. Turn your camera on to send the video signal to the TV. (Consult the TV instruction manual to find out whether you need to select a specific channel or input source to view the camera's output.)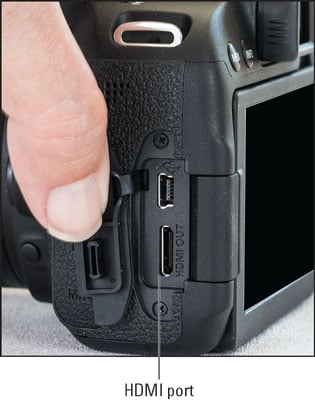 Plug the small end of the HDMI cable into this port.
A few playback pointers to wrap up:
• Using the touchscreen: When you plug your camera into a TV, the camera monitor goes dark, but some touchscreen operations still work. It's a little weird because you have to use the TV screen as a visual reference, but you can scroll the display from one picture to the next or, in Index mode, from one page of thumbnails to the next. In single-image view, you also can pinch in and out to change the image magnification. • Controlling playback with the TV remote control: If your television offers HDMI CEC technology and you have a CEC-enabled remote control, you may be able to control playback with the remote. Before connecting the camera to the TV, open Playback Menu 3 and set the Ctrl over HDMI option to Enable. From there, check the remote instruction guide to find out which buttons do what. Usually, pressing the left and right directional buttons scrolls the picture display. In some cases, pressing the Enter button displays a menu of playback options. • Controlling playback using camera buttons: You also can control playback by using the same camera buttons you normally do to view pictures and movies on the camera monitor. The only aspect you can't control through the camera is sound volume; if you're playing movies or a slide show with background music, adjust volume via your TV's audio controls.
About This Article
This article is from the book:
This article can be found in the category: