Your Rebel T6i/750D camera's movie‐edit feature makes it possible to remove unwanted material from the beginning or end of a movie (imagine the focus was poor at the start, as shown).
To access the editing tools, set the camera to Playback mode and select a movie for playback. Then press the Set button to display the controls shown on the left. Use the cross keys to highlight the scissors symbol (Edit) and press Set to enter the editing screen, shown on the right in the figure.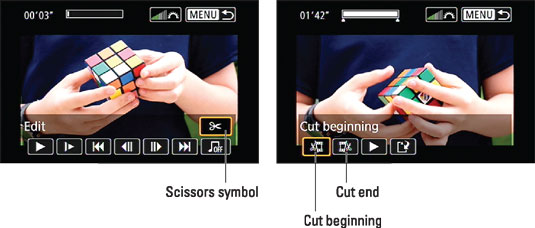 Credit: Photo by Robert Correll
From the playback screen, select the scissors icon to get to the movie‐editing functions.
To trim content from the start of a movie, highlight the Cut Beginning icon, labeled on the right, and press Set. Press the left/right cross keys to advance to the first frame you want to keep and then press Set. Then choose the Save option and select New File. This step saves your trimmed movie as a new file instead of overwriting your original. (Choose Overwrite if you wish to do so, but this is a riskier option.)
To trim the end of a movie, follow the same process, but choose the Cut End icon instead of the Cut Beginning icon.
The in‐camera movie‐editing function doesn't provide very precise trimming. If you want frame‐by‐frame control, download your movies to a computer and edit them using video‐editing software.
About This Article
This article is from the book:
This article can be found in the category: