With certain scene modes on the Rebel T6i/750D, you can play around a little with color, sharpness, contrast, and exposure through the Shoot by Ambience and Shoot by Lighting or Scene Type features.
The keywords here are play around a little. These features don't give you anywhere near the level of control as the advanced exposure modes (P, Tv, Av, and M) or even as much as Creative Auto mode. But they do offer an easy way to start exploring your creative possibilities and begin thinking about how you want to record a scene.
Our only beef with these two features is that they aren't presented in the most user‐friendly fashion, especially for the novice photographer — heck, even for the advanced photographer. For starters, the feature names don't give you a lot of information about what you can accomplish by using them. And the displayed names of the default settings — shown on the Shooting Settings screen and Live View display here — are Standard and Default.
Well, that's helpful, huh?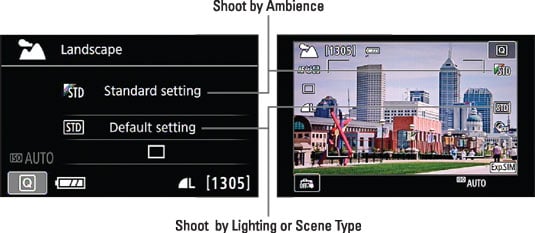 These settings enable you to adjust picture color, contrast, sharpness, and exposure when shooting in the scene modes.
At any rate, here's a quick explanation of each feature:
Shoot by Ambience: With this option, you can affect the color, exposure, contrast, and sharpness of your pictures. This option is available in all the scene modes. You also can use it in Creative Auto mode.

Shoot by Lighting or Scene Type: This option — available in Portrait, Landscape, Close‐up, Sports, and Kids modes — is designed to remove unwanted color casts that can occur if the camera can't properly compensate for the color of the light source. (For example, the red glow of candlelight may cause skin colors to look too red.)
When checking the effects of Shoot by Ambience and Shoot by Lighting or Scene Type in Live View, set the Creative Filter to Off to isolate the effect you see displayed on the monitor to ambience or lighting.
The next two sections give you an idea of what you can accomplish with these options. Following that, you can find step‐by‐step instructions for using them on your next shot.
About This Article
This article is from the book:
This article can be found in the category: