An observation bee hive is a small hive with a glass panel that enables beekeepers to observe a colony of bees without disturbing them or risking being stung. Such hives usually are kept indoors but provide access for the bees to fly freely from the hive to the outdoors (a tube or pipe creates a passage way from the observation hive to outside).
Among a few of the rewards you can realize from setting up an observation hive are that it:
Gives you a barometer on what's happening in a bee colony at any given time of year. That way you can anticipate the needs of your outdoor colonies and better manage your hives. Note that the behavior of bees in an observation hive is influenced by the weather outside (not by the environment indoors).

Makes possible safe close-up observation of bee behavior. And because you can watch the bees without smoking or opening the hive, the bees' behavior is far more natural. You'll see things that you can never witness while inspecting a conventional hive.

Provides year-round enjoyment. No need to be a seasonal beekeeper, because you can observe your bees even in the dead of winter.

Serves as a fantastic educational tool for all ages and a stunning conversation piece in your home. Spend endless hours admiring the remarkable world of the honey bee.

Enables you to enjoy the pleasures of beekeeping from the comfort of your home, especially when you don't have the space to keep bees outdoors or can't physically manage a robust outdoor hive.
Observation hives come in all sizes and styles. Many on the market contain a mere frame or two. These smaller observation hives are great for toting to garden shows, classrooms, or wherever you might do a "show and tell" about beekeeping. But practical observation hives for year-round enjoyment are at least three-frames thick.
Observation hives that are only one- or two-frames thick don't have enough volume for housing a decent-sized colony that can survive during the winter months. A colony needs ample room to grow and survive on a year-round basis. Furthermore, the bees' behavior is far more natural when they have generous enough space to raise brood and create adequate stores of honey.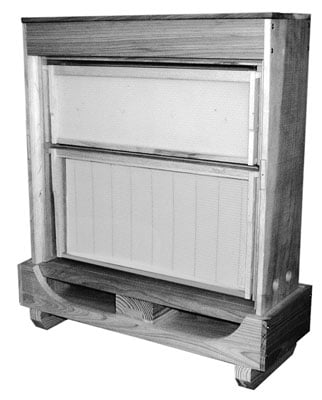 The six-frame design of this observation hive means it will overwinter well. The invisible, built-in hive-top feeder is esthetically pleasing and a big convenience for the owner.
About This Article
This article can be found in the category: