This spicy vegetarian chili combines beans and vegetables. Add a few extra veggies if you wish, such as a sliced zucchini or yellow summer squash. This recipe freezes well.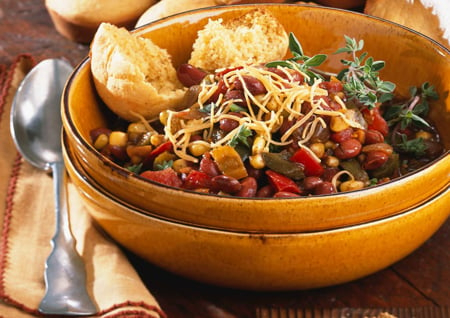 Credit: ©David Bishop
Yield: 6 to 8 servings
Preparation time: 15 minutes
Cooking time: 50 to 60 minutes
Spice meter: Moderately spicy to spicy hot
2 tablespoons vegetable oil
1 medium onion, chopped
1 green or red bell pepper, chopped
1 celery stalk, finely chopped
2 medium carrots, finely chopped
1 to 2 jalapenos, seeded and minced, to taste
2 cloves garlic, minced
2 to 3 tablespoons chili powder, or to taste
1 teaspoon cumin
One 14-1/2-ounce can chopped tomatoes
1 to 1-1/2 cups water, vegetable broth, or chicken broth
Two 20-ounce cans of beans, such as black, pinto, pink, or red kidney, drained and rinsed; or 4 cups freshly cooked beans (about 10 ounces dry)
1 teaspoon minced fresh oregano or 1/2 teaspoon dried
1-1/4 cups (one 10 ounce package) frozen corn kernels
1/2 teaspoon salt
2 tablespoons minced cilantro for garnish (optional)
1/3 cup grated cheddar cheese for garnish (optional)
Heat the vegetable oil in a stewpot over medium heat. Add the onion, bell pepper, celery, and carrots and cook, stirring occasionally, until the vegetables begin to soften, about 5 to 7 minutes.

Add the jalapeno and garlic and cook, stirring occasionally, for 1 minute. Add the chili powder and cumin and cook, stirring constantly, for 30 seconds.

Add the tomatoes, water, beans, and oregano. Reduce the heat to medium-low. Cover partially and simmer until the liquid is slightly reduced, about 30 minutes. If too much liquid has evaporated during cooking, add a bit extra.

Add the salt and corn and simmer for 10 to 15 minutes. Serve garnished with cilantro and grated cheese.
Per serving: Calories 174 (From Fat 43); Fat 5g (Saturated 0g); Cholesterol 0mg; Sodium 325mg; Carbohydrate 27g (Dietary Fiber 9g); Protein 7g.
About This Article
This article is from the book:
This article can be found in the category: