This classic curry dish, which is made with unsweetened coconut milk, gets its spicy punch from Thai curry paste. Serve the chicken with or over rice.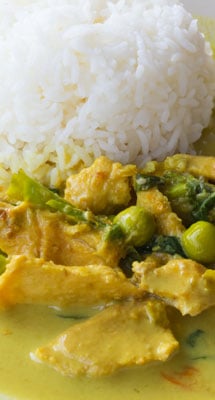 Credit: iStockphoto.com/pinyoj

Yield: 4 to 6 servings

Preparation time: 20 minutes

Cooking time: 20 to 30 minutes

Spice meter: Moderately spicy to hot and spicy

1 tablespoon vegetable oil

2 to 3 tablespoons Thai red or green curry paste

1-3/4 cups unsweetened coconut milk

1 to 2 stalks lemon grass, bruised and cut into 1-inch pieces

1 to 2 Thai lime leaves (optional)

2 pounds boneless skinless chicken breasts, cut into strips

3/4 cup frozen peas, thawed

2 tablespoons Thai fish sauce or soy sauce
In a deep skillet or stewpot over medium heat, heat the vegetable oil. Add the Thai curry paste and cook, stirring constantly, until the aroma is very strong, about 3 to 5 minutes.

Add the coconut milk, lemon grass, and lime leaves and simmer for 3 minutes.

Add the chicken. Simmer until the chicken is cooked through, about 10 to 15 minutes.

Stir in the peas and Thai fish sauce and simmer for 3 to 5 minutes or until the peas are heated through.
Coconut milk does not freeze well. Refrigerate any leftovers and reheat on the stove or in a microwave.
Per serving
: Calories 342 (From Fat 180); Fat 20g (Saturated 14g); Cholesterol 84mg; Sodium 564mg; Carbohydrate 8g (Dietary Fiber 2g); Protein 34g.
About This Article
This article is from the book:
This article can be found in the category: