You can put this simple and straightforward dish together in a flash. Marinate the chicken while you're preparing any side dishes. If you want, make a terrific sandwich by serving the cutlets on rolls.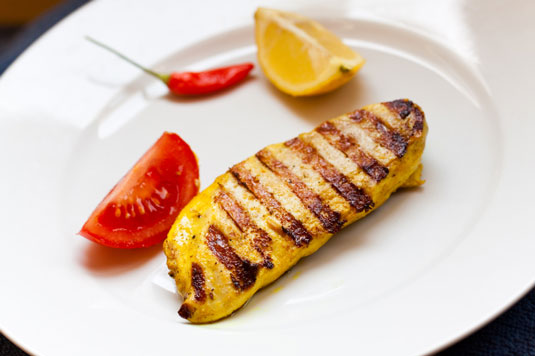 Credit: ©iStockphoto.com/monica-photo

Yield: 4 to 6 servings

Preparation time: 10 minutes; 15 to 30 minutes marinating time

Cooking time: 10 minutes

Spice meter: Mildly to moderately spiced

1-1/2 teaspoons ground cumin

1 teaspoon ground coriander

1-1/2 teaspoon minced fresh ginger

1/4 teaspoon white pepper, black pepper, or cayenne

2-1/2 tablespoons fresh lime or lemon juice

2 teaspoons vegetable oil

4 to 6 boneless chicken breast halves, about 1-1/2 pounds
In a shallow dish, combine all the ingredients except the chicken.

Add the chicken breast halves and turn to evenly coat in the marinade. Marinate in the refrigerator for 15 to 30 minutes, turning once.

Preheat the grill or broiler. Grill the chicken until it's lightly browned on one side, then turn and grill until lightly browned and cooked through, about 3 to 4 minutes per side.
Per serving
: Calories 175 (From Fat 69); Fat 8g (Saturated 2g); Cholesterol 69mg; Sodium 59mg; Carbohydrate 1g (Dietary Fiber 0g); Protein 24g.
About This Article
This article is from the book:
This article can be found in the category: