Fresh vegetables are one of the main reasons that the Mediterranean diet is so healthy. Although the fall isn't as big a veggie season as summer, you can find several choices, including broccoli, cauliflower, and late summer eggplants and squash. These recipes highlight some of the vegetables you can find from September to November, adding a punch of flavor with fresh herbs, spices, olive oil, and cheeses.
Roasted Broccoli and Tomatoes
Prep time: 8 minutes
Cook time: 15 minutes
Yield: 4 servings
1 pound broccoli
2 cups Roma or cherry tomatoes
1 tablespoon olive oil
2 tablespoons balsamic vinegar
1/4 teaspoon sugar or honey
1 teaspoon dried oregano
1 clove garlic, minced
Salt to taste
Preheat the oven to 450 degrees. Cut off the broccoli florets with a 1-inch stem on each crown.

Peel the remaining stalk with a vegetable peeler and cut into 1-inch-long pieces.

Place the broccoli and 1/4 cup of water into a microwave-safe bowl; microwave the broccoli for 3 minutes to soften. Drain and pat dry.

Quarter the tomatoes and toss with the broccoli.

Drizzle the veggies with olive oil, toss, and spread onto a baking sheet. Roast for 12 to 15 minutes or until the broccoli begins to lightly brown.

Meanwhile, combine the balsamic vinegar, sugar, oregano, and garlic.

As soon as the vegetables come out of the oven, place them in a serving bowl and drizzle with the balsamic dressing. Toss and serve.
Per serving: Calories 90 (From Fat 35); Fat 4g (Saturated 1g); Cholesterol 0mg; Sodium 43mg; Carbohydrate 12g (Dietary Fiber 4g); Protein 4g.
Roasted Vegetables with Béchamel Sauce
Prep time: 13 minutes
Cook time: 30 minutes
Yield: 8 servings
1 head cauliflower
4 small zucchinis
Nonstick cooking spray
1 teaspoon chicken base
3 cups Béchamel
1/2 teaspoon pepper
1/4 cup grated Parmesan
Pepper to taste
1/2 cup breadcrumbs
1 tablespoon butter, cut into small cubes
Heat the oven to 350 degrees. Cut the cauliflower into 1-inch pieces, including the stem and leaves.

Cut the zucchini into 2-inch rounds and then quarter lengthwise.

Spray a 9-x-11-inch baking sheet with the nonstick cooking spray.

In a 6-quart stock pot, bring the chicken base and 8 cups of water to a boil. Parboil the cauliflower for 5 minutes and then place on a baking sheet.

Parboil the zucchini for 1 minute and then mix with the cauliflower on the baking sheet. Toss the vegetables with pepper to taste.

Spoon the Béchamel sauce over the vegetables. Top with the cheese and breadcrumbs. Dot the breadcrumbs with butter pieces and bake for 20 minutes.

Increase the oven temperature to broil and broil and cook for an additional 3 to 5 minutes or until golden.
Per serving: Calories 173 (From Fat 85); Fat 9g (Saturated 6g); Cholesterol 25mg; Sodium 306mg; Carbohydrate 17g (Dietary Fiber 2g); Protein 7g.
Sautéed Eggplant with Tomatoes and Black Olives
Prep time: 10 minutes
Cook time: 30 minutes
Yield: 6 servings
2 tablespoons olive oil
3 cloves garlic, chopped
1 large eggplant, unpeeled, cut into 1/2-inch cubes
1 tablespoon dried oregano
One 28-ounce can no-salt-added diced tomatoes
1/4 cup kalamata or black olives
1/4 cup tomato paste
2 tablespoons red wine vinegar
1 to 3 tablespoons water
1 cup fresh basil, sliced thinly
Salt and pepper to taste
1/4 cup ricotta cheese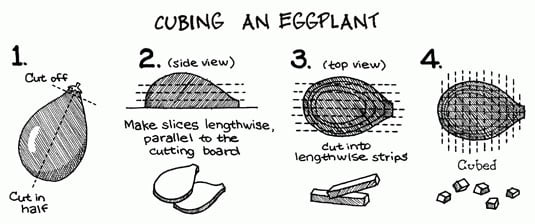 In a heavy skillet, heat the olive oil over medium heat. Add the garlic, eggplant, and oregano and sauté for 10 minutes.

Add the tomatoes, olives, tomato paste, and red wine vinegar and reduce the heat to medium-low. Cover and cook until the eggplant softens, stirring often, about 15 minutes. If needed, occasionally add 1 tablespoon of water to the pan to help the eggplant soften and cook.

Stir in the basil and simmer for 3 to 5 minutes. Season with salt and pepper to taste. Place into a serving dish, dollop with spoonfuls of the ricotta, and serve.
Per serving: Calories 118 (From Fat 61); Fat 7g (Saturated 2g); Cholesterol 5mg; Sodium 164mg; Carbohydrate 13g (Dietary Fiber 5g); Protein 4g.
About This Article
This article can be found in the category: