Folks in the Mediterranean often serve cheese simply with crackers and bread, but you can also find it with more-detailed appetizer recipes. The United States and Canada don't use as wide a variety of cheeses as people in the Mediterranean do. Although you may be used to aged cheeses like cheddar or American, you find more soft and semi-soft cheeses in Mediterranean cooking, especially with appetizers.
If you haven't ventured very far in your cheese choices, now is the time to explore!
Mini Spanakopita
Prep time: 35 minutes
Cook time: 20 minutes
Yield: 24 servings
Three 10-ounce packages fresh spinach, coarsely chopped
6 ounces (about 1 cup) feta cheese, crumbled
1 tablespoon plus 2 tablespoons olive oil
1 medium onion, minced
3 tablespoons fresh dill, chopped
1 tablespoon lemon juice
1/4 teaspoon salt
1/4 teaspoon pepper
2 eggs, lightly beaten
1 tablespoon butter, melted
8 sheets frozen phyllo dough, thawed
1-1/2 cups bread crumbs
Preheat the oven to 350 degrees.

To prepare the filling, microwave the spinach in a microwave-safe bowl for 2 to 3 minutes or until heated.

Using a colander, strain and wring out the spinach until it's barely moist; transfer to a large bowl and mix with the feta cheese.

In a medium nonstick skillet, heat 1 tablespoon of the olive oil and sauté the chopped onion for 3 minutes.

Add the onion, dill, lemon juice, salt, pepper, and eggs to the spinach mixture and stir well.

Combine the remaining olive oil and melted butter in a small bowl.

Lightly brush the phyllo sheet with the olive oil and butter and sprinkle with 1 tablespoon of the bread crumbs. Cut 1 phyllo sheet at a time lengthwise into three 4-inch strips.

Spoon about 2 to 3 tablespoons of the spinach mixture onto one end of each strip; fold as shown.

Place the triangles, seam sides down, on a baking sheet and bake for 20 minutes or until golden. Using tongs, gently place the spanakopitas onto a serving plate. Serve warm.
Per serving: Calories 78 (From Fat 39); Fat 4g (Saturated 2g); Cholesterol 8mg; Sodium 190mg; Carbohydrate 7g (Dietary Fiber 1g); Protein 3g.
Goat Cheese with Honey and Fruit
Prep time: 12 minutes
Yield: 8 servings
32 whole-grain crackers
8 ounces goat cheese
8 dried apricots
8 dried figs
1 pear, thinly sliced
3 tablespoons honey
Arrange the crackers on a serving dish. Spread each cracker with 1 tablespoon of goat cheese and top with an apricot, a fig, or a pear slice.

In a microwave safe bowl, heat the honey for 30 seconds; drizzle the honey over the fruit and crackers and serve.
Per serving: Calories 249 (From Fat 99); Fat11g (Saturated 6g); Cholesterol 22mg; Carbohydrate 31g (Dietary Fiber 4g); Protein 9g.
Tomato and Mozzarella Bites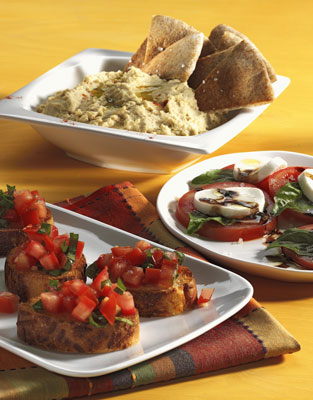 Prep time: 10 minutes
Cook time: 5 minutes
Yield: 16 servings
3/4 cup balsamic vinegar
1/4 cup pomegranate juice
4 vine-ripened tomatoes, sliced 1/4-inch thick
Sea salt to taste
16 fresh basil leaves
1 pound fresh mozzarella cheese, sliced 1/4-inch-thick
1/4 cup olive oil
In a small saucepan, cook the vinegar and pomegranate juice over medium heat until it reduces by half, approximately 5 minutes.

Meanwhile, layer the sliced tomatoes on a serving platter and sprinkle each with sea salt.

Layer a basil leaf over each tomato and top with a mozzarella slice. Drizzle the olive oil and the balsamic pomegranate reduction over the tomato and mozzarella bites.

Pierce each mozzarella bite with a toothpick and serve.
Per serving: Calories133 (From Fat 88); Fat 10g (Saturated 4g); Cholesterol 22mg; Sodium 182mg; Carbohydrate 4g (Dietary Fiber 0g); Protein 7g.
About This Article
This article can be found in the category: