Pasta can be part of your Mediterranean meal in myriad ways, from a small side dish of orzo to a large entree such as vegetable-filled lasagne.
No-boil lasagna noodles are precooked and then dried, making it easy to layer your lasagne without having to deal with wet, cooked noodles. You can find no-boil noodles at any major grocery store chain in the pasta section.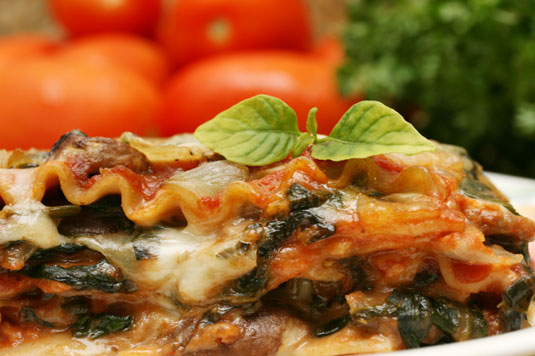 Credit: ©iStockphoto.com/Tova Teitelbaum, 2008
Vegetarian Lasagne
Prep time: 14 minutes
Cook time: 53 minutes
Yield: 6 servings
1 tablespoon plus 1 tablespoon olive oil
2 cups mushrooms, sliced
3 cloves plus 3 cloves garlic, chopped
Two 14.5-ounce cans no-salt-added diced tomatoes
1/2 teaspoon plus 1/2 teaspoon dried oregano
One 6-ounce bag baby spinach
8 ounces lowfat cottage cheese
2 medium zucchinis, sliced 1/4 inch lengthwise
1/2 teaspoon salt
9 no-boil lasagne noodles
1-1/2 cups shredded lowfat mozzarella cheese
Preheat the oven to 350 degrees.

Drizzle 1 tablespoon of the olive oil on the bottom of a 7-x-11-inch glass baking pan.

Heat a nonstick skillet with the remaining olive oil over medium heat.

Add the mushrooms and cook for 5 minutes. Add half the garlic and the tomatoes and allow the sauce to simmer while you prepare the remaining ingredients, about 6 minutes. Sprinkle 1/2 teaspoon of the oregano into the sauce.

In a microwave-safe bowl, microwave the spinach and 2 tablespoons of water for 2 minutes.

Drain the liquid, squeezing the spinach to remove excess liquid. Mix the spinach with the cottage cheese and the remaining garlic and oregano.

Lay the zucchini along the bottom of your baking pan widthwise.

Sprinkle with the salt. Lay 3 lasagne noodles over the top widthwise.

Carefully spread the cottage cheese and spinach mixture on top of the lasagne noodles.

Top with another layer of 3 lasagne noodles.

Pour half of the mushroom-tomato sauce onto the noodles and add a final layer of 3 noodles.

Top with the remaining tomato sauce, covering any exposed noodle. Sprinkle with the shredded cheese.

Cover with foil and bake for 35 minutes.

Uncover and broil for 5 minutes to brown the top and get bubbly. Allow the lasagne to rest for 5 minutes before slicing and serving.
Per serving: Calories 333 (From Fat 107); Fat 12g (Saturated 4g); Cholesterol 17mg; Sodium 731mg; Carbohydrate 38g (Dietary Fiber 4g); Protein 20g.
About This Article
This article can be found in the category: