Eggs are eaten often in the Mediterranean and are a great breakfast choice because they're a wonderful source of protein and offer other healthy vitamins and minerals. Although they're high in cholesterol, eating eggs in moderation hasn't proven to have any adverse effects on heart health.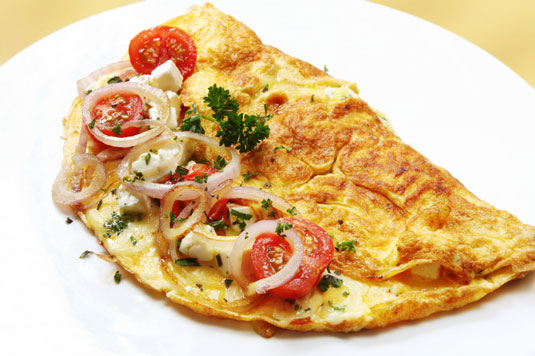 Credit: ©iStockphoto.com/Robyn Mackenzie, 2008
Mediterranean Vegetable Omelet
Prep time: 15 minutes
Cook time: 25 minutes
Yield: 4 servings
1 tablespoon olive oil
2 cups thinly sliced fresh fennel bulb
1 Roma tomato, diced
1/4 cup pitted green brine-cured olives, chopped
1/4 cup artichoke hearts, marinated in water, rinsed, drained, and chopped
6 eggs
1/4 teaspoon salt
1/2 teaspoon pepper
1/2 cup goat cheese, crumbled
2 tablespoons chopped fresh dill, basil, or parsley
Preheat the oven to 325 degrees. In a large ovenproof skillet, heat the olive oil over medium-high heat.

Add the fennel and sauté for 5 minutes, until soft.

Add in the tomato, olives, and artichoke hearts and sauté for 3 minutes, until softened.

Whisk the eggs in a large bowl and season with the salt and pepper.

Pour the whisked eggs into the skillet over the vegetables and stir with a heat-proof spoon for 2 minutes.

Sprinkle the omelet with the cheese and bake for 5 minutes or until the eggs are cooked through and set.

Top with the dill, basil, or parsley.

Remove the omelet from the skillet onto a cutting board. Carefully cut the omelet into four wedges, like a pizza, and serve.
Per serving: Calories 152 (From Fat 91); Fat 10g (Saturated 4g); Cholesterol 13mg; Sodium 496mg; Carbohydrate 6g (Dietary Fiber 2g); Protein 11g.
About This Article
This article can be found in the category: