When you think of the Mediterranean, a few classics, such as stuffed grape leaves and hummus, probably come to mind. These kinds of dishes are common throughout parts of the region at family gatherings and in pubs. You can incorporate many of these same classics into your own diet.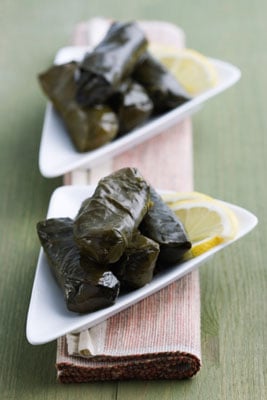 Credit: ©iStockphoto.com/Joan Vicent Cantó Roig, 2007
Stuffed Grape Leaves
Prep time: 45 minutes
Cook time: 50 minutes
Yield: 20 servings
4 Roma tomatoes, small diced
1 cup uncooked basmati rice
1/2 medium onion, minced
1/2 cup (packed) finely chopped fresh mint
1/2 cup (packed) finely chopped fresh parsley
1-1/2 teaspoons crushed fennel seeds
1/2 cup pine nuts, toasted
1/4 cup extra-virgin olive oil
2 cloves garlic, minced
1 16-ounce jar grape leaves
3 cups vegetable stock or chicken stock
Juice of 1 lemon
In a large bowl, combine the tomatoes, rice, onion, mint, parsley, fennel seeds, pine nuts, olive oil, and garlic.

Rinse the grape leaves under cold water. Cover the bottom of a large (preferably cast-iron) Dutch oven with 5 leaves.

Place 1 grape leaf on your work surface, vein side up, removing the stem if it's still intact.

Place a level tablespoon of the rice mixture in center of the leaf near the stem end.

Fold the sides over the filling and roll up firmly beginning at the stem end, tucking in sides as needed.

Place in Dutch oven, seam side down with one end facing the center of pot.

Repeat with the remaining leaves and filling, layering the dolmas along the bottom and starting new layers as necessary.

Pour the stock over the dolmas and add the lemon juice. If necessary, add water until the dolmas are just covered with liquid.

Top the dolmas with five more flattened grape leaves and a heatproof plate to hold them down as they cook.

Lid the Dutch oven and bring to a boil over high heat. Drop the temperature to low and cook for 50 minutes at a low simmer.

Remove the Dutch oven from the heat, uncover, and cool the dolmas in the pot for 10 minutes.

Using tongs, gently remove the dolmas from the Dutch oven onto a serving plate and serve them warm or chilled.
Per serving: Calories 90 (From Fat 47); Fat 5g (Saturated 1g); Cholesterol 0mg; Sodium 201mg; Carbohydrate 10g (Dietary Fiber 0g); Protein 1g.
Keep the dolmas close together to ensure that they don't unravel while simmering. The more firmly you roll them, the less likely they are to come unraveled during the cooking process.
About This Article
This article can be found in the category: