You can find many specialties that are unique to the region served as breakfast in the Mediterranean. Greek yogurt bowls, farina, and beans may be a little different than the cuisine you're used to eating for breakfast. You can find canned fava beans in Mediterranean, Indian, or Italian ethnic stores.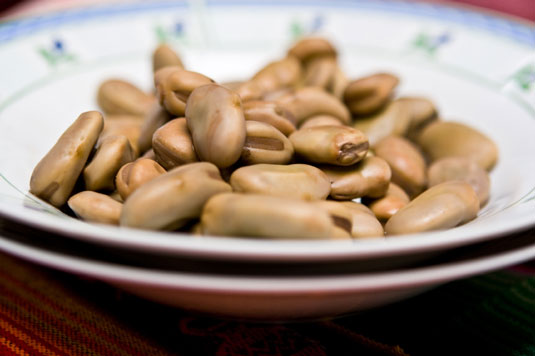 Credit: ©iStockphoto.com/Shelly Perry, 2009
Savory Fava Beans with Warm Pita Bread
Prep time: 10 minutes
Cook time: 15 minutes
Yield: 4 servings
1-1/2 tablespoons olive oil
1 large onion, chopped
1 large tomato, diced
1 clove garlic, crushed
One 15-ounce can fava beans, undrained
1 teaspoon ground cumin
1/4 cup chopped fresh parsley
1/4 cup lemon juice
Salt and pepper to taste
Crushed red pepper flakes, to taste
4 whole-grain pita bread pockets
In a large nonstick skillet, heat the olive oil over medium-high heat for 30 seconds.

Add the onion, tomato, and garlic and sauté for 3 minutes, until soft. Add the fava beans and their liquid and bring to a boil.

Reduce the heat to medium and add the cumin, parsley, and lemon juice and season with the salt, pepper, and ground red pepper to taste.

Cook for 5 minutes on medium heat.

Meanwhile, heat the pita in a cast-iron skillet over medium-low heat until warm (1 to 2 minutes per side).

Serve the warm pita with the fava beans (either on the side or loaded up with the bean mixture).
Per serving: Calories 325 (From Fat 64); Fat 7g (Saturated 1g); Cholesterol 0mg; Sodium 831mg; Carbohydrate 56g (Dietary Fiber 10g); Protein 13g.
About This Article
This article can be found in the category: