In many Mediterranean regions, the general rule is to serve a hot appetizer before a light meal and a cold appetizer prior to a heavy meal. This strategy is a great health tip; avoiding eating heavy foods on top of heavy foods is one of the ways the people of the Mediterranean naturally balance their calorie and fat intake.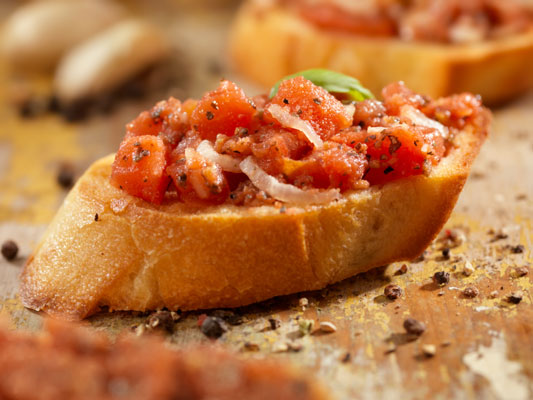 Credit: ©iStockphoto.com/Lauri Patterson, 2012
Italian Bruschetta
Prep time: 12 minutes
Cook Time: 3 minutes
Yield: 16 servings
1 French baguette
1/4 cup basil, chopped
6 Roma tomatoes, chopped
3 cloves garlic, chopped, plus 1 whole clove for rubbing)
1/4 cup olive oil
1/2 teaspoon salt
Cut the baguette into 1/2-inch-thick slices and place 6 inches under the broiler for 2 to 3 minutes until toasted.

Watch the baguette so it doesn't burn. Once toasted, take out of the oven and set aside.

Combine the basil, tomatoes, chopped garlic, olive oil, and salt.

Cut the ends off the whole garlic clove.

After the bread is done broiling, rub each piece with the garlic. Evenly spread the topping mixture on each slice of bread.

Arrange the slices on a platter or individual plates and serve immediately.
Per serving: Calories 119 (From Fat 36); Fat 4g (Saturated 1g); Cholesterol 0mg; Sodium 265mg; Carbohydrate 17g (Dietary Fiber 1g); Protein 4g.
If you aren't a garlic fan or want a milder flavor, you can skip the garlic all together or add less chopped garlic to the topping.
About This Article
This article can be found in the category: