Here, you take a classic steak and potatoes meal and make it over using the principles of the Mediterranean diet. Everyone loves a good makeover story! Small changes can be very powerful, and you don't have to give up foods you love. You also get to add more food to your plate at the end of the day. Who can argue with that?
Before: A typical steak-and-potatoes meal
8-ounce rib-eye steak
Whole baked potato with sour cream and butter
1/2 cup steamed broccoli
Estimated calories: 1,049; Saturated fat: 22 grams; Monounsaturated fat: 15.8 grams
After: A Mediterranean-style steak-and-potatoes meal
3-ounce rib-eye steak
3/4 cup Garlic and Lemon Roasted Potatoes
1/2 cup steamed broccoli
Grilled Fennel
Estimated calories: 575; Saturated fat 5 grams; Monounsaturated fat 26 grams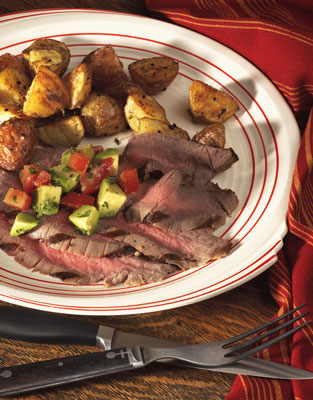 Garlic and Lemon Roasted Potatoes
Prep time: 6 minutes
Cook time: 35 minutes
Yield: 6 servings
1-1/2 pounds fingerling or new potatoes
3 tablespoons olive oil
3 cloves garlic, minced
1/2 teaspoon dried oregano
1/2 teaspoon pepper
Zest of 1 lemon (about 1 tablespoon)
1/4 teaspoon sea salt
Preheat the oven to 425 degrees. Slice the potatoes in half (for fingerling) or quarters (for new) and place them on a baking sheet or roasting pan.

Drizzle the potatoes with the olive oil, garlic, and oregano and toss to coat.

Bake the potatoes for 20 minutes; gently stir. Continue cooking for an additional 15 minutes or until golden brown. Remove from the oven and place into a serving bowl.

Toss the warm potatoes with the pepper, zest, and sea salt to serve.
Per serving: Calories 139 (From Fat 62); Fat 7g (Saturated 1g); Cholesterol 0mg; Sodium 104mg; Carbohydrate 18g (Dietary Fiber 2g); Protein 2g.
Grilled Fennel
Prep time: 5 minutes
Cook time: 8 minutes
Yield: 4 servings
2 fennel bulbs
1 tablespoon plus 1 tablespoon olive oil
1/8 teaspoon salt
1/8 teaspoon red pepper flakes
1 orange
1/4 cup raw almonds, chopped
Heat a grill over medium-high heat.

Cut the fennel bulbs in half, drizzle them with 1 tablespoon of the olive oil, and season with the salt and red pepper flakes. Grill the fennel for 4 to 6 minutes on each side.

Using a sharp knife, cut the skin away from the orange, removing the white outer portion.

Cut the orange in half, break it into segments.

Toast the almonds in a skillet over medium heat for 3 to 4 minutes, stirring or tossing constantly to avoid burning.

Sprinkle the almonds over the orange slices.

Thinly slice the fennel and toss it with the orange slices and almonds.

Drizzle with the remaining olive oil and serve.
Per serving: Calories 169 (From Fat 103); Fat 11g (Saturated 1g); Cholesterol 0mg; Sodium 235mg; Carbohydrate 16g (Dietary Fiber 6g); Protein 4g.
The results
As you can see, simply decreasing the amount of steak, changing the (saturated fat) loaded baked potato to the roasted Garlic and Lemon Potatoes (which use olive oil), and adding more vegetables changed the entire make-up of this meal. The made-over meal has nearly half the calories, significantly lower levels of saturated fats, and much higher levels of healthy monounsaturated fats. Plus, the Grilled Fennel adds vitamins, minerals, and phytochemicals.
About This Article
This article can be found in the category: