A vegetarian diet can be beneficial to health if you make sure to meet your body's nutritional requirements. Chia seeds are a complete protein, so they can help meet those needs. On average, vegetarians consume a lower proportion of calories from fat and generally have a lower body mass index (BMI), which has drawn more people to a plant-based diet.
Chia Quiche with Broccoli and Mushrooms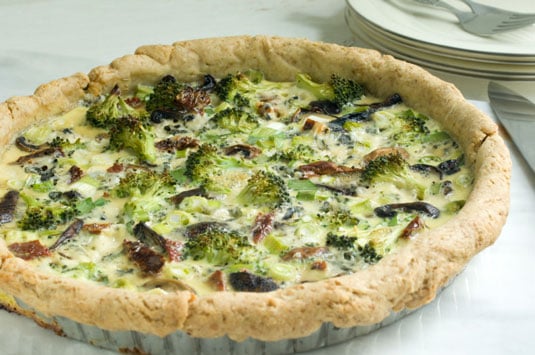 Credit: ©iStockphoto.com/modesigns58
Preparation time: 1 hour
Cook time: 45 minutes
Yield: 6 servings
1-3/4 cups whole-wheat pastry flour
1/4 cup milled chia seeds
1/4 teaspoon salt
1⁄3 cup sunflower oil
1⁄3 cup water
1 tablespoon extra-virgin olive oil
3/4 cup porcini mushrooms
3/4 cup white button mushrooms
3 garlic cloves, minced
1 tablespoon dry basil
1 cup broccoli, diced
2-3/4 cups silken tofu, crumbled
2 tablespoons vinegar
2 tablespoons sunflower oil
1/2 teaspoon sea salt
1/2 cup chia gel (see the Note)
In a large bowl, sift the flour; add the milled chia seeds and salt. Add the sunflower oil and mix to combine. Add the water and mix into a soft dough.

On a worktop, sprinkle some flour and roll the dough to the desired thickness and shape.

Preheat the oven to 375 degrees F.

In a large frying pan, heat the oil over medium heat. Add the mushrooms to the pan and cook for 6 to 8 minutes. Remove the mushrooms from the pan with a slotted spoon and place on paper towel to remove any excess liquid.

In a large bowl, place the cooked mushrooms and all the remaining ingredients and mix together. Leave for a few minutes, and stir to ensure a nice mix of ingredients.

In a 9-inch pie pan, place the dough at the bottom of the dish. Add the mushroom mixture. Bake for 45 minutes. Remove and serve.
Per serving: Calories 359 (From Fat 218); Fat 25g (Saturated 3g); Cholesterol 0mg; Sodium 329mg; Carbohydrate 28g (Dietary Fiber 7g); Protein 11g.
To make 1/2 cup chia gel, mix 2 tablespoons whole chia seeds with 3/4 cup water. Stir well and let sit for 20 minutes, stirring occasionally.
Spaghetti Alfredo
Preparation time: 30 minutes
Cook time: 30 minutes
Yield: 6 servings
1/2 onion, chopped
1/4 green bell pepper, chopped
1/4 red bell pepper, chopped
1/4 cup broccoli
1 large celery stalk, chopped
2 cloves garlic, minced
2 tablespoons olive oil
1/2 cup chia gel (see Tip)
One 10-ounce packet of Alfredo sauce
One 10-ounce can cream of mushroom soup
1 cup of water
3/4 cup frozen peas
1 pound spaghetti
Basil and oregano, to taste
1 teaspoon whole chia seeds
In a pan on high heat, add the onion, green and red bell pepper, broccoli, celery, garlic, olive oil, and chia gel. Sauté until the vegetables are tender.

Prepare the Alfredo sauce per the package instructions.

Add the sauce to the pan of veggies and mix.

Add the mushroom soup and water and mix.

Add the peas to the pan and cook on low heat for 3 minutes.

Prepare the spaghetti per the package instructions.

When the spaghetti is ready, transfer it to a dish and pour the sauce on top.

Sprinkle with basil, oregano, and chia seeds.
Per serving: Calories 524 (From Fat 172); Fat 19g (Saturated 6g); Cholesterol 26mg; Sodium 774mg; Carbohydrate 71g (Dietary Fiber 7g); Protein 16g.
About This Article
This article is from the book:
This article can be found in the category: