To get the cheese coating to stick to the chicken in this tasty gluten-free recipe, pound the cheese in with the flat side of a meat mallet.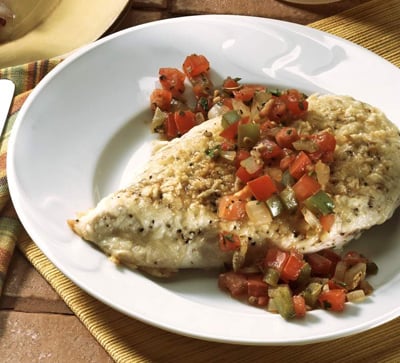 Credit: ©T.J. Hine Photography, Inc.
Preparation time: 15 minutes
Cook time: 15 minutes
Yield: 4 servings
Four 4-ounce boneless skinless chicken breasts
8 teaspoons sherry
1/4 teaspoon plus 1/4 teaspoon pepper
2 cups coarsely shredded Parmesan cheese (do not use canned grated cheese)
1/3 cup bread crumbs
1 tablespoon plus 3 tablespoons olive oil
1/2 medium onion, chopped
1/2 small green pepper, chopped
1/2 teaspoon minced garlic
2 teaspoons Italian seasoning
1/4 teaspoon salt
4 plum Roma tomatoes, chopped
2 tablespoons minced fresh parsley
On a cutting board and using the meat mallet, pound the thicker portion of each chicken breast to make the thickness of the pieces uniform.

Pour the sherry into a shallow bowl.

Mix 1/4 teaspoon of pepper, the cheese, and bread crumbs together on a sheet of wax paper.

Dip each chicken breast in the sherry, moistening both sides, and then press the breasts firmly into the cheese mixture, covering both sides of each breast. Use a meat mallet to help the cheese adhere to the meat.

In a medium skillet over medium heat, sauté the onion, green pepper, and garlic in 1 tablespoon of olive oil, stirring frequently, until the vegetables are tender.

Stir in the Italian seasoning, salt, 1/4 teaspoon of pepper, tomatoes, and parsley. Continue cooking until the mixture is heated through.

Preheat a large nonstick skillet over medium-high heat. Add 3 tablespoons of oil. Set the breasts in the skillet and cook 5 to 6 minutes per side, until the cheese is light golden and the chicken is cooked through.

Remove the breasts from the skillet and set on paper toweling to drain the excess oil.

To serve, place the chicken breasts on a serving platter and spoon the tomato salsa over the chicken breasts.
Per serving: Calories: 449; Total fat: 26g; Saturated fat: 10g; Cholesterol: 83mg; Sodium: 1,034mg; Carbohydrates: 61g; Fiber: 1g; Sugar: 2g; Protein: 38g.
About This Article
This article is from the book:
This article can be found in the category: