An insulin pump is another option for people with type 2 diabetes who need to give themselves multiple injections of insulin each day. People choose insulin pumps because they might help them better manage their blood glucose. Pumps can be convenient and can offer more flexibility to your insulin routine.

An insulin pump (shown here) is a small device that you wear on your body that holds and delivers insulin. It's attached to a thin needle, called a cannula, that you insert under your skin. Some pumps are directly attached to the needle, and others are connected through tubing (called an insertion set) to deliver the insulin.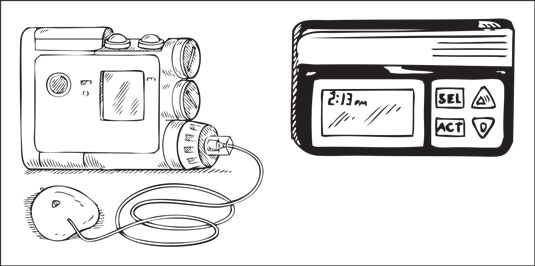 Illustration by Kathryn Born, MA

An insulin pump with its insertion set.

Basal rate is the steady trickle of low levels of rapid-acting insulin in an insulin pump.

Most pumps deliver frequent, tiny doses of insulin at a steady background (basal) rate throughout the day and night and short bursts of insulin (bolus) before meals. You can program the pump to deliver insulin ahead of time, based on your expected needs. You can also push a button to deliver an extra bolus of insulin at mealtimes or snacks. This could also be used to treat episodes of high blood glucose.

An insulin pump on the market, called V-GO, is specifically used by people with type 2 diabetes. The pump is simple in that it attaches with a sticky patch to your skin and includes a built-in needle (no tubing required).

Most pumps fit inside a pump case that you wear on your waistband, bra, pocket, or similar spots that you find convenient. Your pump holds and dispenses your insulin, but that's not all. Pumps have a screen to display information and electronics to keep them running, and they can store data. Some pumps have special features like connecting wirelessly with blood glucose monitors or even integrating with a continuous glucose monitor (CGM).
About This Article
This article is from the book:
This article can be found in the category: