When you received your diagnosis of diabetes, maybe you thought your days of eating waffles and pancakes were over. Although starting the morning off with pancakes dripping with butter and maple syrup is probably not in your current eating plan, you can still enjoy relatively sweet treats in the morning, especially if you use whole grains.
Refined grains are processed to remove the bran and the hull, and along with them, up to 90 percent of the nutrients, including vitamins E and B. Whole grains have a lower glycemic index than refined grains.
So whole grains are less likely to send your blood glucose soaring and then dipping. The protein, fat, and fiber in whole grains slow their absorption into the bloodstream. In addition, whole grains make you feel fuller and stay fuller longer.
Read labels carefully to ensure that the food you're getting is made from whole grains. Don't just look for "wheat" bread; make sure it says "whole wheat." Some manufactures add caramel color or molasses to refined flour and sell the bread as "wheat bread," potentially confusing hopeful healthy eaters. Choose the food with more fiber.
Warm Blueberry Oats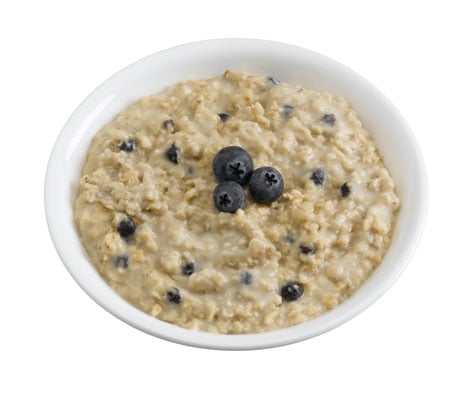 Credit: ©iStockphoto.com/HighImpactPhotography
Preparation time: 5 minutes
Cook time: 3 minutes
Yield: 2 servings
1 cup rolled oats
2 cups water
2 teaspoons honey
1 cup fresh blueberries
In a microwave-safe bowl, combine the oats and water. Microwave on high for 3 minutes.

Remove the bowl from the microwave and stir in the honey and then the blueberries.
Per serving: Kcalories 218 (From Fat 25); Fat 3g (Saturated 0g); Cholesterol 0mg; Sodium 6mg; Carbohydrate 43g (Dietary Fiber 6g); Protein 7g.
Whole-Wheat Waffles
Preparation time: 90 minutes
Cook time: 16 minutes
Yield: 4 servings
1 cup evaporated skim milk
1 teaspoon active dry yeast
1 cup whole-wheat flour
1⁄2 teaspoon orange zest
1⁄8 teaspoon vanilla extract
2 packets Splenda
Nonstick cooking spray
Warm the milk and dissolve the yeast in it. In a bowl, mix the yeast mixture with the flour, orange zest, vanilla, and Splenda. Let sit, covered, at room temperature for 1-1/2 hours.

Using a waffle maker coated with nonstick cooking spray, prepare the waffles, following the manufacturer's instructions.
Per serving: Kcalories 157 (From Fat 7); Fat 1g (Saturated 0g); Cholesterol 3mg; Sodium 76mg; Carbohydrate 30g (Dietary Fiber 4g); Protein 9g.
Skip the butter because these waffles are delicious without it. If you don't feel like you can go cold turkey, look for a spread, such as Brummel and Brown Yogurt Spread or Smart Balance Buttery Spread, that contains no trans fat.
Blueberry and Almond Pancakes
Preparation time: 10 minutes
Cook time: 5–7 minutes
Yield: 4 servings (16 pancakes total)
1⁄2 cup all-purpose flour
3⁄4 cup whole-wheat flour
2 teaspoons apple juice concentrate
2 teaspoons baking powder
1⁄4 teaspoon salt
1-1⁄2 teaspoons unsweetened applesauce
1-1⁄4 cups low-fat milk
1⁄8 teaspoon almond extract
3 egg whites, or 6 tablespoons egg substitute
3⁄4 cup fresh blueberries, or frozen berries, thawed
1 tablespoon almond slivers, crushed
Nonstick cooking spray
In a bowl, combine the all-purpose flour, whole-wheat flour, apple juice concentrate, baking powder, and salt; set aside.

In another bowl, combine the applesauce, milk, almond extract, egg whites, blueberries, and almonds; stir well.

Add the flour mixture. Stir until you achieve a fairly smooth batter consistency, approximately 2 minutes. Feel free to leave a few lumps, because overmixing can result in a tougher finished pancake.

Coat a large skillet with the cooking spray; place over medium heat until hot.

Spoon 1/4 cup batter for each pancake. When bubbles form on top of the pancakes, turn them over. Cook until the bottom of each pancake is golden brown.
Per serving: Kcalories 209 (From Fat 21); Fat 2g (Saturated 1g); Cholesterol 3mg; Sodium 419mg; Carbohydrate 38g (Dietary Fiber 4g); Protein 10g.
About This Article
This article is from the book:
This article can be found in the category: