Whether greens are an important part of the salad you're making or added just for garnish, using special and novel greens makes your salad stand out. Skip the pale green iceberg lettuce and buy some darker green lettuces like romaine and leaf lettuce instead. The greener the leaf, the more nutrients it contains, especially magnesium, a mineral important for heart and bone health.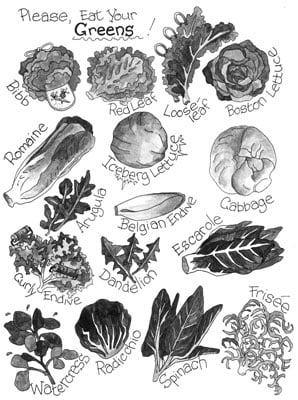 Credit: Illustration by Elizabeth Kurtzman
Kale Salad
Preparation time: 15 minutes
Yield: 4 servings
1 bunch kale leaves, rinsed and stems trimmed
2 tablespoons walnuts
1 shallot, diced
2 small tomatoes, cut into quarters
4 tablespoons reduced-fat feta cheese
1 tablespoon dried cranberries
2 tablespoons walnut oil
2 tablespoons lemon juice
Message the kale by removing the fibrous ribs, taking bunches into both hands and rubbing together for 5 minutes. Chop the kale into thin ribbons and place in a large bowl.

Chop the walnuts.

Add the walnuts, shallot, tomatoes, feta, and dried cranberries to the kale.

Toss with walnut oil and lemon juice.
Per serving: Kcalories 153 (From Fat 99); Fat 11g (Saturated Fat 1.5g); Cholesterol 9mg; Sodium 129mg; Carbohydrate 12g (Dietary Fiber 3g); Protein 5g.
Arugula Salad
Preparation time: 10 minutes
Yield: 4 servings
10 to 12 ounces arugula, washed and drained
1 or 2 garlic cloves, mashed with salt
2 tablespoons lemon juice
3 tablespoons extra-virgin olive oil
1 teaspoon crushed red pepper
Salt and pepper to taste
2 tomatoes, peeled and cut in bite-size pieces
Discard the arugula stems and chop the leaves into smaller pieces. Place on a serving dish.

In a small bowl, whisk together the garlic, lemon juice, olive oil, red pepper, and salt and pepper. Pour over the arugula and toss.

Add the tomatoes on top.
Per serving: Kcalories 111 (From Fat 99); Fat 11g (Saturated Fat 2g); Cholesterol 0mg; Sodium 14mg; Carbohydrate 4g (Dietary Fiber 2g); Protein 2g.
About This Article
This article is from the book:
This article can be found in the category: