Dips don't have to be fat-laden creamy concoctions that add inches to your waistline and bags to your saddle. With a little creativity, you can create delicious dips that keep you eating healthy and your glucose levels normal.
Dips are among the quickest and easiest (not to mention tastiest!) appetizers around. Keep your pantry and fridge stocked with a few dip-making essentials and you'll never be stuck wondering what to whip up when unexpected guests stop by.
White Bean Dip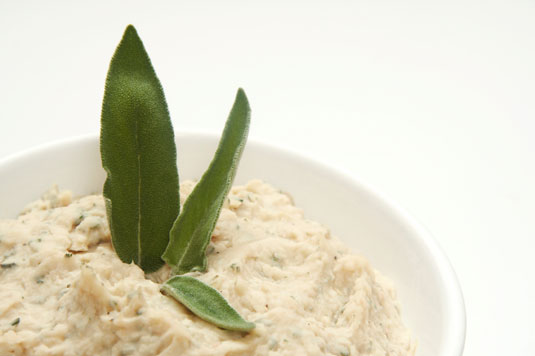 Credit: ©iStockphoto.com/MurrayProductions
Preparation time: 10 minutes
Chill time: 3–4 hours
Cook time: 5 minutes
Yield: 4 servings
Nonstick cooking spray
1⁄2 cup chopped onions
2 garlic cloves, minced
1 can (15 ounces) cannellini beans, drained and rinsed
1⁄2 teaspoon chopped fresh sage
1 teaspoon balsamic vinegar
1 tablespoon water
1⁄8 teaspoon salt
1⁄8 teaspoon pepper
Place a medium skillet over medium heat and coat it with nonstick cooking spray. Add the onions and cook until they're soft and translucent, about 1 minute.

Add the garlic and continue to cook for about 30 seconds.

Place the beans in a food processor and add the cooked onions and garlic, sage, vinegar, water, salt, and pepper. Process until smooth (about 1 to 2 minutes).

Transfer the mixture to a bowl, cover it, and refrigerate it for 3 to 4 hours before serving.
Per serving: Kcalories 65 (From Fat 3); Fat 0g (Saturated 1g); Cholesterol 0mg; Sodium 161mg; Carbohydrate 12g (Dietary Fiber 3g); Protein 3g.
Cacit (Cucumber Dip)
Preparation time: 10 minutes
Stand time: 2 hours
Yield: 4 servings
1 English cucumber (or 4 small)
2 garlic cloves
1⁄2 teaspoon coarse salt
2 tablespoons minced fresh mint
1 cup nonfat Greek-style yogurt
Cut the cucumber into 1-inch dices. Place the cucumber in a stainless steel colander, and sprinkle with salt. Let the cucumbers drain for 1 to 2 hours, to remove excess liquid.

On a cutting board, make a paste of the garlic with the salt. Place garlic mixture in a bowl. Add the cucumbers, mint, and yogurt. Mix well and add salt to taste.
Per serving: Calories 40 (From Fat 0); Fat 0g (Saturated 0g); Cholesterol 0mg; Sodium 313mg; Carbohydrate 4g; Dietary Fiber 1g; Protein 6g.
About This Article
This article is from the book:
This article can be found in the category: