To give your salsa a fruity twist, don't bother with bottled lemon or lime juice. Fresh is definitely the way to go. Squeezing the juice out is easy to do, and the flavor is far superior.
Here's how to get the most out of your citrus fruit.
Roll the fruit on a hard, flat surface, pressing down fairly hard to break up the juice sacs.

Cut the citrus fruit in half width-wise.

Holding one half in one hand, stick the tines of a fork into the fruit pulp and squeeze the fruit.

Twist the fork as needed to release as much juice as possible.
Juice your fruit over a separate bowl, not into other ingredients. Doing so helps you catch any errant seeds that may try to sneak their way into your delectable dishes.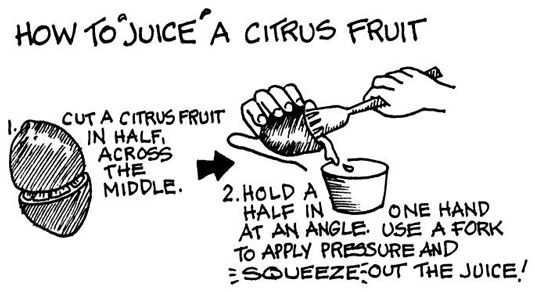 Credit: Illustration by Elizabeth Kurtzman
Lemon and lime aren't the only fruity flavors you can add to your salsas. Check out the following yummy salsas featuring mango and pineapple.
Mango Salsa
Preparation time: 15 minutes
Yield: 4 servings
1 large ripe mango, peeled, pitted, and chopped
1⁄2 small red bell pepper, seeded and chopped
1 medium tomato, seeded and cubed
1 green onion, green and white parts, chopped
2 tablespoons minced fresh ginger
Juice of 1 lime
3 tablespoons fresh chopped cilantro
In a mixing bowl, combine all the ingredients and mix well. Cover and refrigerate until ready to serve.
Per serving: Kcalories 50 (From Fat 3); Fat 0g (Saturated 0g); Cholesterol 0mg; Sodium 4mg; Carbohydrate 13g (Dietary Fiber 2g); Protein 1g.
Warm Pineapple Salsa
Preparation time: 20 minutes
Cook time: 15 minutes
Yield: 4 servings
1 tablespoon olive oil
1 tablespoon slivered almonds
1 small onion, thinly sliced
2 teaspoons curry powder
16 ounces pineapple tidbits, drained
1 tablespoon cider vinegar
1⁄4 teaspoon salt
1 tablespoon honey
1 tablespoon brown seedless raisins
In a small saucepan, heat the oil over medium heat. Add the almonds and gently toss in the oil.

Add the onion and cook until tender and until the almonds are golden brown.

Add the curry powder, pineapple, vinegar, salt, honey, and raisins. Bring the mixture to a boil, reduce the heat, and simmer for 10 minutes. Remove the salsa from the heat and serve warm.
Try this recipe with canned mandarin oranges, apricots, or peaches instead of the pineapple, depending on your accompaniments and your taste buds on a given day. But be sure to avoid fruit packed in heavy syrup.
Per serving: Kcalories 114 (From Fat 40); Fat 5g (Saturated 1g); Cholesterol 0mg; Sodium 148mg; Carbohydrate 20g (Dietary Fiber 1g); Protein 1g.
About This Article
This article is from the book:
This article can be found in the category: