Tasting honey is not the same as eating honey. Tasting honey is as much an art as it is a science. Trained honey sensory experts objectively evaluate honey using a method that assesses visual, olfactory, gustatory, and texture experiences. The method and skills required are similar to how a wine sommelier would taste and evaluate wines.

Having the right tools for honey tasting is not only helpful, but it also adds to your enjoyment of a tasting session.
Using a Honey Tasting Mat
Use the "honey tasting mat" to keep your honey samples organized during your tasting flights. Place each sample on a hex. You may mark down the names or numbers of each sample directly on the sheet so you do not mix up the honeys.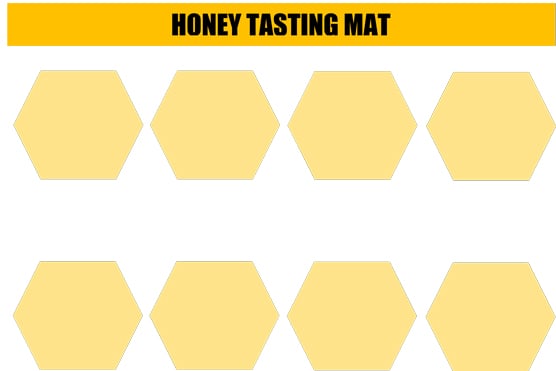 Taking Honey Tasting Notes
Use the "honey tasting notes" sheet to write your own detailed tasting notes for each honey sample you taste. Keeping notes on every honey sample you taste reinforces your personal memories and is a great way to compare, contrast, and add more information about each honey as you gain more experience. Use a new sheet for each honey sample. Hang on to your notes as a reference for all the various honeys you've sampled.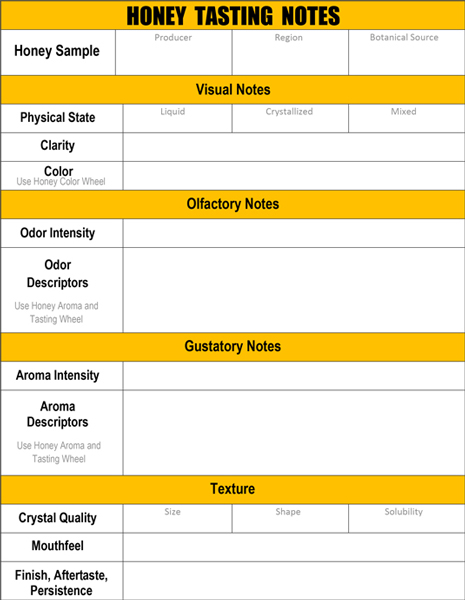 About This Article
This article is from the book:
This article can be found in the category: