Are you passionate about making food? Do you like to see how things are made? Are you interested in becoming a master meat artisan in your home kitchen? Or are you just a serious lover of charcuterie but want to stick to eating it as best as you can? If so, then this Cheat Sheet is for you. Following, are some quick tips that will help set you up for success, whether you're making the meats or simply eating them!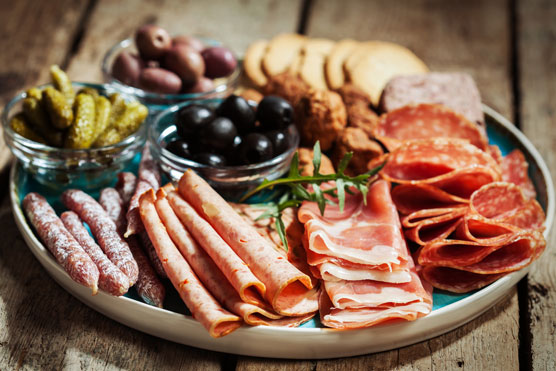 © Natalia Van Doninck / Shutterstock.com
Pro tips for successful meat making
Making epic meat treats starts with establishing good habits for cleaning and sanitation, learning techniques with your tools and equipment, and having patience. Below are a handful of tips that will help you as you master the craft.
Keep your gear cold: Temperature control is going to be critical for safety and for the quality of your resulting products. When grinding, put your grinder parts and stuffer parts in the freezer prior to use.
Clean and sanitize: Keep a container of soapy water and an unused cloth rag on hand. This will make quick cleanups really easy. Get a new spray bottle and fill it with a solution of 1 part bleach to 10 parts water for quick sanitizing of your surfaces and equipment.
Personal hygiene: Washing your hands incessantly is key to avoiding the transmission of food-borne illnesses. Invest in a box of single-use gloves as an additional line of defense.
Sharp knives: There is no sense in working extra hard when preparing your meats. Make sure your knives are properly sharpened before use. This will make processing meat much easier. Keeping a honing steel on hand is great for periodically truing your blade while you are working.
Good music: What's the sense in working in silence? Get some killer tunes on before you get working. If you need to queue up a new album or turn the radio up, just be sure to remove your gloves and wash your hands after you touch the phone.
Refreshment: I love a good, cold beer while working in the kitchen at home, but save the booze until you are done with the grinder and knives. Dulled senses make your job a little more dangerous.
Scientific equipment to keep you safe
Old World techniques for making charcuterie were sometimes passed down in written form, but more often by demonstration from one generation to the next. Modern technology has made this process less about family lore, and more about science. If you plan to make charcuterie, consider investing in some or all of these devices!
pH meter: pH is the measure of how acidic or alkaline something is. In charcuterie, you want a lower pH, which translates to higher acidity. Milwaukee Instruments makes great pH meters and probes.
AW meter: An AW meter, or water activity meter, provides precise measurements of how dry food products and ingredients are. When you are drying meat for preservation and shelf stability, you can approximate the meat's water activity based on the weight loss of the meat during the drying process. But if you want to be more precise, get an AW meter.
Instant temperature probe: The temperature of your meat is important because as it warms up, it becomes a better environment for bacterial growth. A good temperature probe will help you keep an eye on the temperature to make sure your meat isn't getting too warm.
Entertaining with charcuterie
Charcuterie boards have become ubiquitous in entertaining. Your guests will love being able to choose from an assortment of meats, cheeses, and accouterments to form their own delicious creations.
There are no hard-and-fast rules when it comes to entertaining with charcuterie. Mostly, you can just get what you like and arrange it how you want. If you'd like a bit more guidance than that, consider the following.
Creating balance: A successful charcuterie board should have a good balance of flavors and textures. There is no definitive rule of ratios, but consider including a soft and a hard cheese, salamis and whole-muscle charcuterie, sweet and sour pickles, crackers and bread, nuts and dried fruit, mustard and jam.
Portioning: If the charcuterie board is the main attraction, plan for 2 to 2.5 ounces of meat, and 2 to 2.5 ounces of cheese per person. If charcuterie is just the appetizer, dial it back and plan on 1 to 1.5 ounces of meat and 1 to 1.5 ounces of cheese per person. Fill in around the board with a nice spread of accouterments to pair with the meats and cheeses you select.
Replenishing: If you have a big party that will extend over a couple of hours, plan to put out additional meats, cheeses, and accouterments as your guests eat through them. That way, you can keep chilled items chilled a little longer. It also sets the pace at which your guests will eat.
About This Article
This article is from the book:
This article can be found in the category: