A professional online profile is like a 24/7 digital billboard used for passive career networking. You put your job-worthy online profile out there, hoping employers will find you and like you for their jobs. When your online profile looks like a match for a job they want to fill, you hope they'll invite you to join them for a face-to-face interview — an interview that can lead to big things in your future.
Online profiles range from (short) keyword-driven text messages, to (long) fancy documents with reams of descriptive writing.
Short online profiles
The online executive bio — also called online executive summary and online executive brief — is used to advance employment or business objectives. The profiles are searchable: Employers can search for the profiles they want, such as financial manager, pipefitter, and so on.
Nourished by keywords, a short profile — about 200 words or fewer — is found on social networking sites and job boards. The short profile includes a link to a full resume but omits a photo. When an online executive bio captures interest, the recruiter clicks through to a candidate's e-mail or resume.
Following are two examples of short online profiles.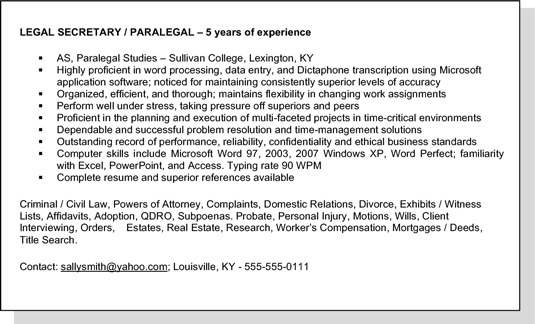 Credit: Debbie Ellis — Houston, Texas
Click here to view this profile.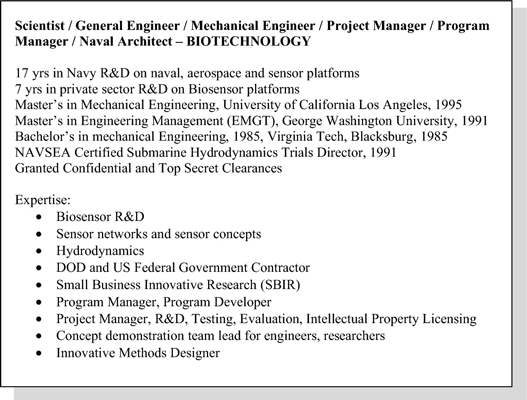 Credit: Kathryn Troutman — Baltimore, Maryland
Click here to view this profile.
Long online profiles
The online profile originally developed as an instrument of social engagement on such social networking sites as MySpace and Facebook. The early expressions of online identity mentioned or linked to many personal factors — pictures, gender, home town, occupation, alma mater, and taste in music and romantic relationships. Socially focused pages have evolved into social marketing presentations for commerce and careers.
In contrast to online executive bios, online profiles are multi-link creations that appear on Internet networking sites like LinkedIn and VisualCV. Following is an example of a long online profile.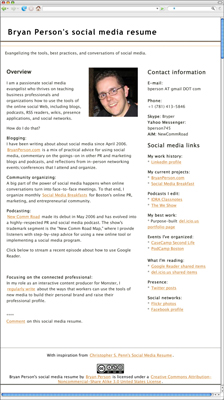 Credit: Brian Person — Austin, Texas
Click here to view this profile.
Long online profiles present a combination of features from a wide range of digitally-based options:
Professional branding statements

Qualifications summaries

Accomplishment sheets

Blogs

RSS (Real Simple Syndication) feeds

Reports and press releases

Publications, books, newsletters

Videos, video clips, audio bites

Recommendations, testimonials

Association memberships, affinity groups

Honors

Interests, hobbies

Connections to other people

Photos

Resumes available in three variations — PDF, MS Word, and text
Never in history has so much information been available about so many people. And the information is for all eyes on publically accessible Web pages. Hundreds of millions of people worldwide have expressed their likes and dislikes — and sometimes their innermost feelings. Corporations use profile information to specifically market products to you. Identity thieves use profile information to rob you. Think before posting.
About This Article
This article can be found in the category: