If you're an illustrator, designer, or some other type of creative professional, then you're probably frustrated at how limited LinkedIn can be for showing off your skills. All LinkedIn profiles look the same, and LinkedIn's profiles don't allow for an exciting exhibition of a creative portfolio — a fact that can be annoying if the quality of your work is a key factor in what makes you unique in the market.
Following are some networking sites designed with you, the creative professional, in mind. Join at least one that shows your talents in the way you want them seen.
Behance
Behance has become the most powerful authority for creative professionals online with Adobe's purchase of the network. (Even global organizations, such as AIGA, Adobe, and MTV, have used Behance's technology to create portfolios for their work.) Much more than a portfolio generation website, Behance offers project-management software, industry-specific job boards, and award-winning blogs with advice for creative professionals.
The Behance network of sites has four main categories:
Carbonmade
Creative professionals often struggle with finding ways of demonstrating their past work online. After all, you can't e-mail a physical portfolio or stumble across one through an Internet search. Setting up a website can take many hours of tinkering, and a lot of online portfolio sites charge monthly subscriptions.
Carbonmade, on the other hand, is a free, easy-to-use portfolio builder that supports Google indexing and public-facing profiles, which means there's a greater chance of someone finding your portfolio during a Google search of your name.
With Carbonmade's Talent Pool feature, you can set up a portfolio designed to get discovered by recruiters. Recruiters searching for a photographer, for example, enter in their search criteria and can see not just the names of candidates but also a visual summary of their work.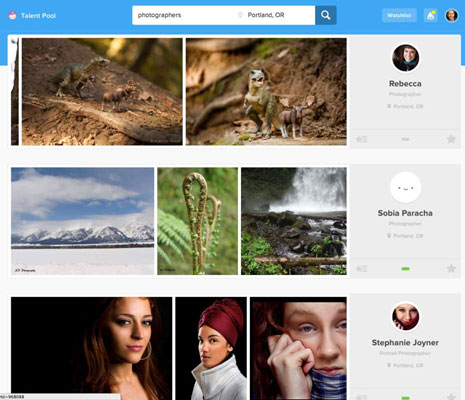 Using Talent Pool gives you a very attractive online presence focused exclusively on the work you've done. You can link to this page from your résumé or on your other social networks.
Although Carbonmade isn't a community site, you can browse other people's creative portfolios; generally speaking, if they've included their contact info, they want people to contact them. Find other creative professionals on Carbonmade by entering your industry or keywords with the following code in a fresh Google search:
Site:carbonmade.com "[your keyword]"
For your keyword, try these search terms:
Branding

Copywriting

Creative

Designer

Graphic design

Interactive

Packaging
Carbonmade's free version only has a few designs and limits the number of pieces you can upload, so you have to be a bit picky about which items you display.
About This Article
This article is from the book:
This article can be found in the category: