A LinkedIn Group is a collection of professionals connected around a common theme. This can be valuable in your job search. A group's main function is to facilitate discussions and networking within a trusted environment.
The two kinds of LinkedIn Groups are open groups, where membership isn't mandatory to participate, and closed groups, where you need to join to read discussions and network. Some closed groups may accept your request to join automatically. Others require an administrator to approve your membership based on some criteria.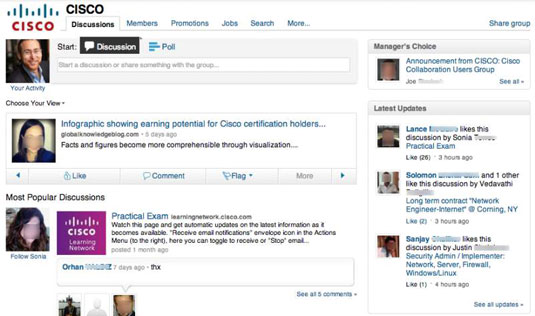 Because so many worthless groups exist, it pays to be careful about which ones you join. You can find useful groups by following these steps:
Do an advanced people search using a keyword or industry term.

Find people outside your network (not 1st degree) who are doing what you want to do at a desired company and view their profile.

Scroll down to the bottom of their profile and make note of any industry-specific groups they belong to.

Join the industry-specific groups you find.
The easiest way to find a good group is to simply do a search. In the search box at the top of your profile, type in a keyword or an industry-specific word, such as "ESL" or "Healthcare." LinkedIn will suggest related groups the third of the way down even before you press enter.
If you see a suggested group you like, great; otherwise press enter and execute the search. From there use the filter on the left to just see results that are groups. Also try geographic terms, such as "Portland Marketing." Groups with more than 1,000 members tend to be active.

Only about 20 percent of LinkedIn's thousands of groups are active, so be sure to look at the number of active discussions in a group before joining it. Only open groups allow you to see discussions without being a member. If you're interested in joining a closed group, you simply have to draw conclusions about its activity level based on the number of users in that group.
Most schools have active alumni groups that are eager to serve you. Try joining your school's alumni group and finding alums who are in your same industry. After you're approved, choose the Members tab and enter your industry in the search field.
The results show fellow alumni in your industry; many alumni are willing to connect with you and even advise you. Invite some of these people to connect and be sure to customize the note in your invitation and lead by mentioning your common school.
About This Article
This article is from the book:
This article can be found in the category: