Facebook constantly changes its user interface. Many of those changes go unnoticed but can seriously affect your privacy during a job search. Of course, the most visible changes get the most media attention, but what about those minor feature updates that not many people discuss? Some of these features are mostly unknown but can have a huge impact on how you use Facebook.
Timeline post audience selection
Many people don't know this, but you can choose the audience for each individual post you write. At the bottom right of the post's text box, next to the Post button, click on the small padlock button to open up the audience selection settings for the text, link, picture, or video you're about to post. If you don't set this manually, the post defaults to your global privacy settings.
If you're smart, you'll post personal branding messages (any text, links, images, or videos that reinforce your professional image) to be viewed by Public and keep the rest of your messages to the default. So every couple of days, you may try a new version of your value statement — a statement that summarizes who you are and what makes you unique — and strategically leak it out to the public.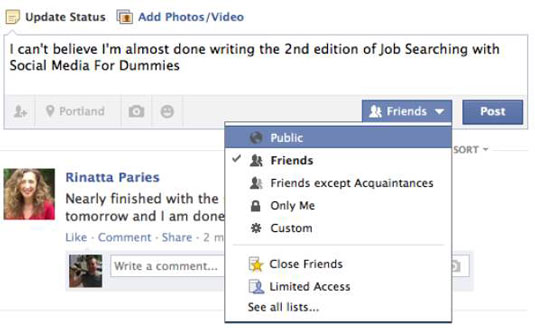 Facebook's secure browser
Facebook now offers secure browser settings (SSL) so no one can snoop on your connection to Facebook. SSL is a security feature used by bank websites, e-commerce checkout screens, and e-mail applications.
You have to manually turn on the SSL in your Facebook account. See whether the address says http or https. If it says http, then navigate to Account Settings by clicking on the gear wheel in the top navigation bar, selecting See More Settings, and clicking on Security. Click on Secure Browsing and check the box next to Browse Facebook on a secure connection when possible.
Facebook hashtags
Borrowing a feature from Twitter, Facebook posts can now contain hashtags. Hashtags start with the pound sign (#) and indicate the subject of the post. In Facebook, hashtags are clickable to help people find other posts related to that tag. What displays are other posts that contain that same tag.
If you share a public post with a hashtag, anyone can see it. If the post is set to Friends, then only your friends will be able to see it when they click the hashtag or do a hashtag search.
You can use a #Search (hashtag search) to discover posts on almost any topic, example #cutepuppies returned hours of potentially wasted internet time. You can also use hashtags in your own posts to help them gain more visibility within your network.
About This Article
This article is from the book:
This article can be found in the category: