You want people calling you out of nowhere during your job search because they thought of you when a job opened up. So what can you say that really makes you stick out? Try using blue ocean strategy to figure that out.
Blue ocean strategy is a way of differentiating yourself in a competitive market by changing the rules. After many years of business consulting and statistical analysis of more than 160 companies, W. Chan Kim and Renée Mauborgne wrote the seminal book on business strategy, Blue Ocean Strategy: How to Create Uncontested Market Space and Make Competition Irrelevant (Harvard Business Review Press).
Some of their insights are valuable to job seekers competing in today's overcrowded market. Namely, they discovered that two types of markets exist:
Red ocean markets: These markets are red because of the bloody battles of competition. Competitors vie for market share by offering cheaper or better products and services. For job seekers, this market exists when 50 MBA grads go for that big-name corporate position or when an entry-level position is announced on craigslist for the first time and 300 people send in their résumé.

Blue ocean markets: These markets are blue because no one else is there to compete with you. The company's offerings can't be compared with anyone else's. For a job seeker, this type of market means that you're so different than everyone else going for the job that you're the obvious choice.
A blue ocean strategy is simply positioning yourself so uniquely that you don't have any competition. In other words, you separate yourself from the crowd by offering a different type of value to the hiring manager.
In real life, this blue ocean strategy played out with Southwest Airlines. The company focused on its strengths — low-cost, friendly service and access to smaller airports — and eliminated what other airlines compete on — meals, seating classes, and comfort. Then Southwest added a brand-new value to consumers by offering frequent departures. In a sense, Southwest is more competitive with automobile transportation than other airlines.
Grab a piece of paper or pop open your computer's spreadsheet program, create an x- and y-axis like you would for a graph, and then follow these steps, which show you how to use the blue ocean strategy to differentiate yourself in the job market:
Think about a position you're going for — be specific.

Use this specific position to title your chart.

On the x-axis, list about ten qualities, skills, traits, and other factors that may qualify a typical job candidate for that position.

On the y-axis, draw in a scale from one to ten and map out the line where a typical candidate may be for each factor listed on the x-axis.

Fill in the data for two typical candidates.

Lines A and B represents these two candidates. Drawing both lines helps you better visualize how you're different from the competition.

Analyze which of these factors are unnecessary and which can be downplayed.

The person creating this chart is a career changer who doesn't have an advanced degree in the field, so he eliminates the importance of the years of experience and education level factors accordingly.

Determine which factors can raise you to a point where no one else can touch you.

This person knows he can get a very high number of recommendations because people love working with him so much that they're willing to risk their reputations to support his career change. So he gives himself high marks for this factor and assumes that other job seekers have only the minimum number of recommendations.

Create new value to get your line looking different from that of a typical candidate.

Look at other companies or functions within a company and see whether you can bring in other factors. Or look at the hiring manager's boss and see what he needs.

The candidate decides that this position really needs someone with high energy who can inspire and motivate others on the team. Consequently, he adds these factors to his chart and gives himself high marks because he knows how much enthusiasm he brings to the table compared to other job seekers.
After you have your chart, you can clearly see how you're different from your competition. Embed these differentiating factors into everything you do with your brand.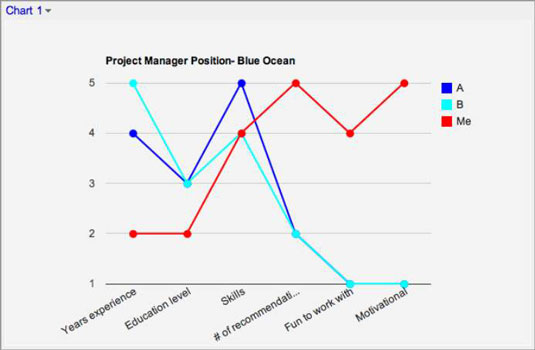 About This Article
This article is from the book:
This article can be found in the category: