If you're a visual job seeker, then you appreciate infographics and other graphical ways to display linear information. There's some evidence to show that some recruiters like this as well because they can pick out what they want to find very quickly. Just select the one that uses a layout you prefer.
Vizify.com surveyed over 300 hiring recruiters to find out exactly what information they want to see about someone in the first few seconds. Using this data, it built a platform that quickly delivers this information on the first page.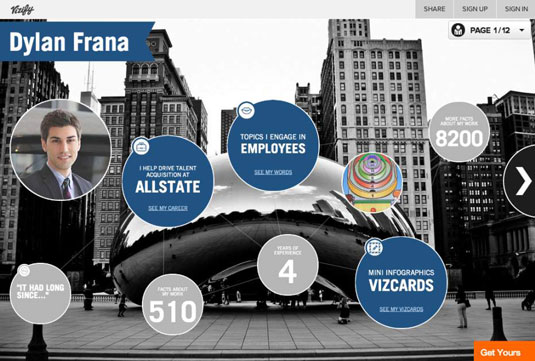 When you connect your LinkedIn account to Vizify, it generates an online and visual representation of your LinkedIn profile, highlighting only those elements that recruiters seem to want to see. Their design style is simple, elegant, and useful. You can see an example Vizify page here.
Visua.ly converts your entire LinkedIn profile into a stunning and interactive infographic. When you visit these sites, all you have to do is link your LinkedIn account and it generates a visual representation of your work and education history. You can then make design changes to suit your taste.
About This Article
This article is from the book:
This article can be found in the category: