Snapchat is an app available only for smartphones. You can't use Snapchat on a tablet, laptop, or computer. To set up a Snapchat account, first head to your App store (for Apple products) or Google Play Store (for Android) to download the Snapchat app.

Then, to set up your account, follow these steps:
Enter your birthday.

By doing so, you verify that you're old enough to use Snapchat.

Choose a username that's at least three characters and tap Continue.

Use your company name or a name that best represents your business. Choose wisely!

Enter your password and tap Continue.
Enter your email address.
Enter your mobile phone number.

Snapchat sends you a verification number to ensure that you're not a spammer, a scammer, or another unsavory type of person.

Enter the verification code.
Once you're verified, tap the Continue button.
Decide whether to let Snapchat upload your contacts.
It's up to you if this is something you want for a business account.

Now that your account is set up, add a selfie as your Snapchat profile image. Click the white ghost icon, at the top of your screen, and take a series of photos that best represent your brand.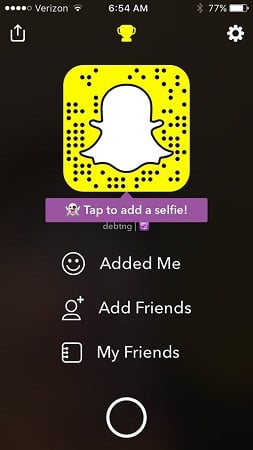 Tap the ghost icon to upload your selfie or logo.
Profile photos are a sequence of shots instead of just one, so Snapchat takes a series of rapid-fire shots. Don't move the phone away from its intended target.
About This Article
This article is from the book:
This article can be found in the category: