You can find as many applications for marketing via mobile social media as you can imagine. Keep in mind the areas described in this list, whatever the device or market segment you target:
News and updates: Distribute this type of information to your Twitter, Facebook, and LinkedIn followers, as well as to people on your prospect list and your newsletter subscribers.
Emergency information: Warnings range from product recalls to weather hazards. Short message service (SMS) is a cost-effective way to send out these messages.
Comparison shopping: Provide information so that Facebook, Twitter, Instagram, and Pinterest shoppers can compare by price and feature and learn about sales.
Local business announcements: Announce coupons, deals, and special offers across all your social media channels, including SMS.
Video distribution: Video is one of the most successful formats in social media. In addition to posting on YouTube, post short versions of your videos (or at least a link) on all your social media platforms and vice versa, especially Facebook, Instagram, and Snapchat. Although you can't post YouTube videos on Periscope (Twitter's app for live video streaming), you can post from Periscope to YouTube.
Customer service improvements: For instance, use Twitter to let customers place a pickup order and find out when their order is ready. Use QR codes so people can quickly determine your competitive products, features, and prices.
QR codes are the two-dimensional versions of bar codes. Capable of holding about 350 times more information than a bar code, QR codes usually appear in print or online as a square or rectangle with black-and-white dots. Viewers can use their smartphones to scan a QR code, which then links them directly to a web page with additional information.
Event publicity: On Twitter and Facebook, consider providing real-time logistical information.
Integration of mobile marketing and social media: Post updates on the fly and use real-time services, such as Instagram, Twitter, or Snapchat, especially if your business targets younger, local customers.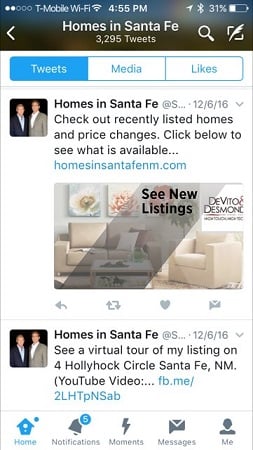 Image courtesy of Homes in Santa Fe NM
Homes in Santa Fe distributes recent listings and price changes on its Twitter mobile feed.
Don't let the obvious business-to-customer (B2C) value of mobile devices blind you: Mobile marketing has a place in business-to-business (B2B) strategies, as well. For example, sales people are using the technology for competitive research, tracking sales calls, and demonstrating their products and services to prospective customers. According to Google, 42 percent of B2B buyers use a mobile device during the purchasing process.
Consider using SMS (short message service) as a form of mobile marketing to maximize your reach, especially to younger audiences. Use SMS to provide coupons, encourage repeat visits, or announce special time-limited offers to customers who have already signed up to receive your text messages. It's less expensive than a custom mobile app! Be sure to promote sign-ups for your SMS option on all your social media, website, and retail locations, just as you promote sign-ups for an e-newsletter.
About This Article
This article is from the book:
This article can be found in the category: