Company growth — regardless of the type of company — follows a predictable pattern. There will be times when your teammates have their heads down and everyone is working on developing the plan and times involving a great deal of turmoil — for bad or good.
Major changes to the business model and significant hires, for example, can be tumultuous for a small company. Adding a revenue stream can throw everyone's schedule out of whack as you sort out who manages which roles.
When you and your team are working nonstop to develop your product and grow your business, you may be wondering when is the best time to fit in fundraising. There are a lot of things to consider, but the simple answer is between milestones.
Schedule your fundraising to occur just after you've achieved one big success and have the next big milestone on the horizon. The key is to raise money before you run out of money. Fundraising isn't just about needing money. It's about letting investors buy future success.
As a manager of an early-stage venture company, you need to pay special attention to your burn rate, the rate at which you're spending the company's cash. If the burn rate exceeds the company's resources before the next round is raised, then the company may go bankrupt.
You can control your spending, but you can't always control your funding rounds and their timing. When you plan your fundraising timeline, allow for extra time to raise your next round so that your coffers don't get depleted before the next infusion of capital (see the figure).
If you depend on cash from sales to keep your company afloat, for example, be careful because you can't always control whether someone will buy your product or service.
VCs keep about half of their funds in reserve for follow-on investment. These funds are reserved for only the most promising companies and those that have trouble may find themselves out of business if they can't raise another round.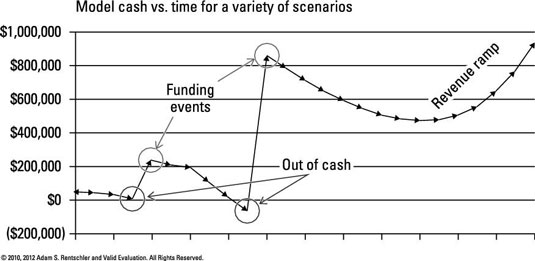 Raising money before you're out of money.
About This Article
This article is from the book:
This article can be found in the category: