You don't have to go any farther than your kitchen to start your fight against inflammation. Food can be just as powerful as medication in decreasing inflammation and reducing your risk of chronic disease. This list highlights ten of our favorite inflammation-fighting foods. Make them part of an anti-inflammatory diet, and the punch becomes much more powerful.
Salmon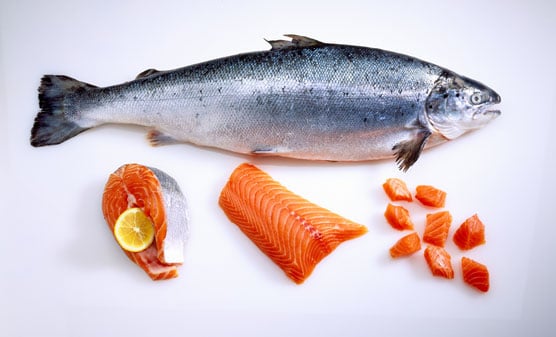 © Jack Jelly/Shutterstock.com
Wild-caught salmon is a great source of protein to work into main menus for breakfast, lunch, or dinner. It's an essential ingredient in anti-inflammatory diets because it contains high amounts of omega-3 fatty acids and has a multitude of health benefits: It can help reduce the risk of heart and cardiovascular disease; decrease triglycerides and lower blood pressure; prevent stroke and heart arrhythmias; and help with weight loss by improving satiety, or that feeling of fullness. It improves the body's ability to respond to insulin for better blood sugar control, reduces inflammation in autoimmune disorders, reduces cancer risk, and improves outcomes in some types of cancer, such as breast and colorectal cancers.
Omega-3s — and salmon, in particular — protect against macular degeneration (a disease that destroys sharp, central vision through the degeneration of the macula in retina) and dry eyes, help lubricate joints in arthritis, improve skin health for acne and dry skin, reduce the risk of asthma, improve cognition and mood, and reduce your risk for dementia and Alzheimer's disease.
In addition to the protein and omega-3 fatty acids, salmon contains high levels of vitamin D, selenium, niacin (vitamin B3), vitamin B12, phosphorus, and magnesium. A 4-ounce serving of salmon contains 87.1 percent of the recommended daily value for omega-3 fatty acids.
Eating at least two to three servings a week of salmon can give you as much EPA and DHA as most fish oil capsules. We recommend taking daily physician-grade fish oil capsules or eating salmon at least three times a week. In general, you'll get better benefits with wild rather than farm-raised salmon. Additionally, farmed salmon has three times the amount of saturated fat as wild salmon and roughly 50 percent more calories.
Flaxseeds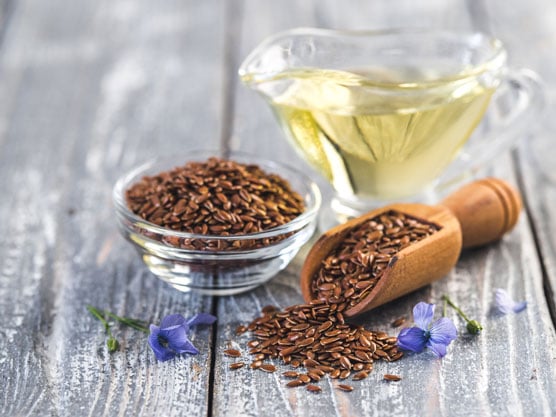 © Fascinadora/Shutterstock.com
Flaxseeds are tiny brown seeds of Linum usitatissium, a plant that people have used as a source of food, fiber for clothing, and medicine for centuries.
The anti-inflammatory benefits in flaxseeds come from their high amounts of an omega-3 fatty acid, alpha linolenic acid (ALA), which is a precursor to the anti-inflammatory compound EPA, which we discuss in the preceding section.
Flaxseeds help improve bone health by preventing excessive bone turnover (a change in the balance between bone loss and bone formation), protect against heart disease and diabetes, and help improve blood sugar control.
Besides omega-3 fatty acids, lignans, and dietary fiber, flaxseeds are high in the nutrients manganese, folate, copper, phosphorus, and vitamin B6. A tablespoon of ground flaxseeds contains approximately 1.8 grams of omega-3 fatty acids, which is good for your body.
Between 1 to 2 tablespoons of ground flaxseed a day are helpful for hormone, blood sugar, and anti-inflammatory balance. Studies have shown that 4 tablespoons daily can significantly reduce blood cholesterol levels. If you're introducing flaxseed into your diet, you should start with small amounts and work up to 1 to 2 tablespoons per day.
Blueberries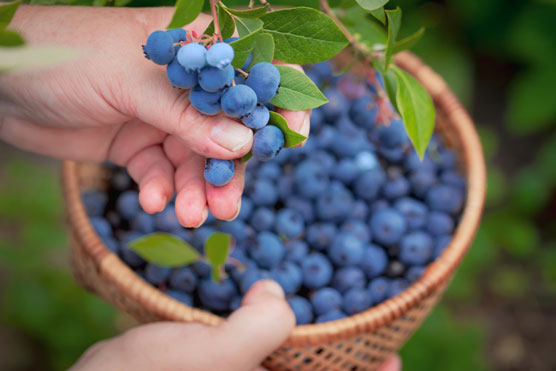 © Stone36/Shutterstock.com
Wild, organic blueberries are high in antioxidants (specifically flavonoids and anthocyandins), which protect cells from inflammation and oxidative stress. The anthocyandins, which give blueberries their blue-red color, help keep blood vessels and capillaries strong, stabilize the "glue" of your body called collagen (the stuff that binds cells together), help stop the proliferation of cancer, and enhance the antioxidant effects of vitamin C. Blueberries also contain fiber, manganese, and vitamins C, E, and K.
Blueberries improve night vision and protect against macular degeneration, prevent aging of the brain due to free-radical damage, prevent dementia, improve learning and motor skills, and provide cancer protection through antioxidants called ellagic acid. Blueberries also protect against colon and ovarian cancer, help lower cholesterol, and reduce the risk of urinary tract infections. These delicious, versatile berries even have a low glycemic index, which makes them a good choice for people with blood sugar issues.
Any amount of blueberries is good to eat on a daily or weekly basis. One cup of blueberries every day provides approximately 20 percent of the daily value of manganese and 10 percent of the daily recommendation of vitamin E. Aim for incorporating at least a cup into your diet three times a week. Eat fresh blueberries for dessert, or add them to yogurt, oatmeal, smoothies, salads, or whole grain pancakes.
Natural Almonds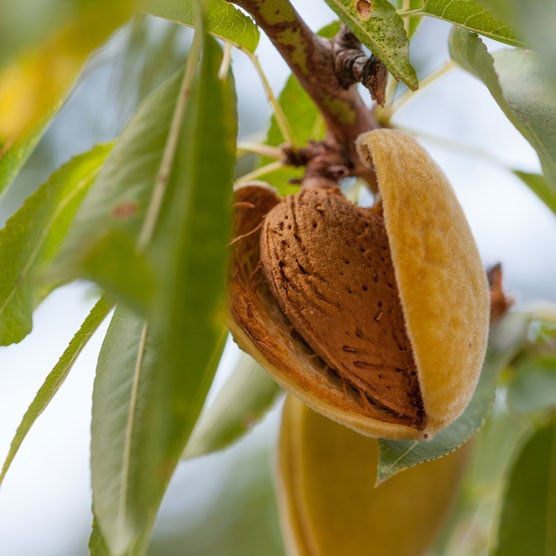 © Franck Boston/Shutterstock.com
Once frowned upon as a high-fat snack, almonds are now touted as one of the top superfoods you should include in your diet, particularly in an anti-inflammatory diet. Almonds have about 6 grams of protein in a 1-ounce serving, which is a small handful.
The monounsaturated fat, protein, and potassium in natural almonds make them good promoters of heart health, and the vitamin E they contain is an antioxidant and helps prevent heart attacks. Almonds also help temper the rise in insulin and blood sugar, helping to fight diabetes. And almonds are a good source of folate, which helps prevent birth defects.
Mushrooms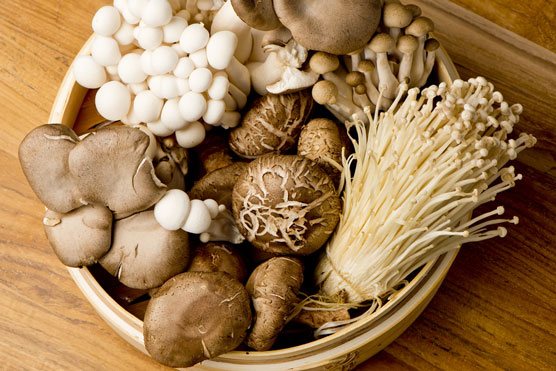 © Rebecca Fondren Photo/Shutterstock.com
Mushrooms belong to an enigmatic class of fungus that grows in the dark woods and thrives on rainy, moist days. Edible mushrooms are also one of the most immune-boosting, nutrient-packed, and anti-inflammatory foods you can include in your diet. They contain high amounts of antioxidants, phytonutrients, and sugars called polysaccharides, which regulate the immune system.
The list of benefits from mushrooms is long, as is the list of nutrients you find in them. One of the most cited health benefits of mushrooms is helping the immune system's white blood cells protect your body against infection, cardiovascular disease, cancer, and arthritis. Mushrooms, especially maitake mushrooms, help regulate blood sugar in diabetes. Mushrooms also provide potent antioxidant protection; shiitake, maitake, and reishi mushrooms have anti-cancer effects, and white button mushrooms may also protect against breast and prostate cancer. And if that weren't enough, mushrooms also help to increase ovulation in women suffering from polycystic ovarian syndrome (PCOS).
Mushrooms contain 10 percent of your daily value of protein and 5 percent of your fiber in just a 5-ounce serving. Five ounces of crimini mushrooms contain more than 50 percent of the recommended daily value of selenium. In addition, mushrooms contain high amounts of vitamin B2, copper, vitamin B3, tryptophan, vitamin B5, potassium, phosphorus, zinc, manganese, vitamin B1, vitamin B6, folate, magnesium, iron, and calcium.
Broccoli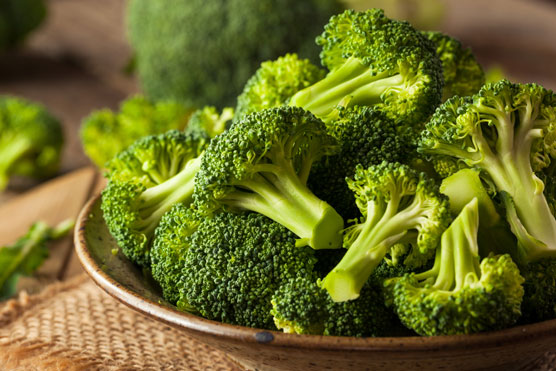 © Brent Hofacker/Shutterstock.com
Broccoli is one of those superfoods you can eat in a variety of ways — raw, steamed, in soups and salads — and it still maintains a high level of nutrients and nourishment.
The dietary fiber in broccoli can help keep your intestines clean, and the calcium and iron promote strong bones and red blood cells. Broccoli also helps protect against heart disease, some cancers, and diabetes.
In just one medium stalk of broccoli, you can get 12 percent of your daily fiber needs and 3 percent of your daily carbohydrates. And the more broccoli you eat, the better off you are. Broccoli is also full of vitamins C and D, calcium, iron, folate, and phytonutrients.
Quinoa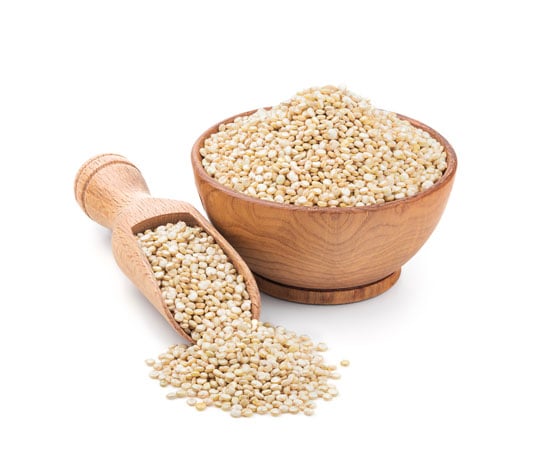 © Andrii Horulko/Shutterstock.com
Quinoa is on the anti-inflammatory list because it's a whole grain that's also a complete protein, which means it contains all the essential amino acids — you don't need to eat it with other legumes to get its protein benefit.
Studies have shown that quinoa prevents migraine headaches because it's high in magnesium and riboflavin (vitamin B2), which help reduce inflammation in the blood vessels. Including whole grains like quinoa in your diet can also protect you against heart and cardiovascular disease, asthma, gallstones, Type 2 diabetes, and cancer.
Just 3.5 ounces of cooked quinoa contain 14 grams of protein and 7 grams of dietary fiber. Quinoa is high in manganese, magnesium, iron, tryptophan, copper, and phosphorus.
Use quinoa as a substitute for other carbohydrates or starches in the diet, such as pasta or rice, or use quinoa flour as a gluten-free flour substitute.
Brussels Sprouts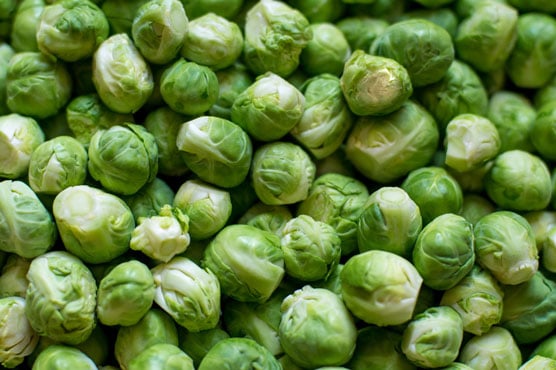 © Salatik_cn/Shutterstock.com
Brussels sprouts are a hearty cruciferous vegetable that's high in antioxidants and antioxidant nutrients, including vitamin K. Surprisingly enough, they also contain alpha-linolenic acid, the omega-3, anti-inflammatory fatty acid found in salmon and flaxseeds.
Brussels sprouts aid in detoxification because they contain compounds called glucosinolates, which are necessary for enzymes of detoxification that help in the fight against and possible prevention of some cancers. Brussels sprouts can also help reduce the risk of cardiovascular disease, decrease cholesterol, aid in digestion and bowel regularity, and thwart Helicobacter pylori, the bacterium that causes peptic ulcer disease.
One cup of steamed Brussels sprouts has 15 percent of the daily recommended value of fiber, 10 percent of the daily value of protein, and about 12 percent of the omega-3 fatty acids you need. They're high in vitamins K, C, A, B6, B1, B2, and E as well as folate, manganese, potassium, tryptophan, iron, phosphorus, magnesium, copper, and calcium.
Add Brussels sprouts to soups or salads, steam them, boil them, or bake them and add them to your main meals. Add 1 cup of Brussels sprouts to your dietary regime two to three times a week or more to get the positive detoxification benefits. Slicing a few Brussels sprouts can give your salad an extra boost as well as provide an added crunch.
Onions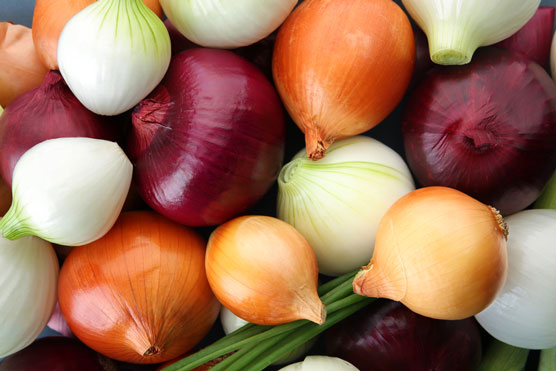 © New Africa/Shutterstock.com
Onions provide a powerhouse of anti-inflammatory benefits and are easy to incorporate into most meals. They're high in sulfur-containing molecules that your body's cells need to function properly. The sulfur molecules also help keep your joints lubricated, which means onions support healthy bone and connective tissue.
Onions also aid in detoxification and boost immune function. They protect against cardiovascular disease; protect against colorectal, laryngeal, and ovarian cancers; and improve blood-sugar control in diabetics.
Onions are high in chromium, vitamins C and B6, manganese, molybdenum, tryptophan, folate, potassium, phosphorus, and copper. A half cup of onions contains approximately 100 milligrams of the antioxidant and anti-inflammatory flavonoid quercetin.
Green Tea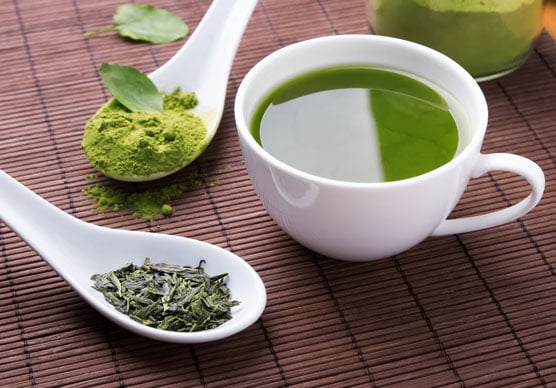 © Chiociolla/Shutterstock.com
Green tea comes in many varieties and flavors and is one of the most anti-inflammatory beverages you can drink, other than water. It contains high amounts of the antioxidant compounds (called catechins) and circulatory stimulants (called theobromide and theophylline).
Other teas, such as white, black, and oolong, are extremely healthy as well, but when it comes to listing the ten best "superfoods," green tea is a real standout.
Regular drinkers of green tea have lower rates of heart disease and lowered risk of developing various cancers. In addition, green tea improves insulin insensitivity, reduces the risk of eye disease, and reduces the anti-stress effects due to the L-theanine and neuroprotection in Alzheimer's and Parkinson's diseases.
If you're on a blood thinner such as warfarin (Coumadin), consult your physician before consuming large amounts of green tea. Tea may increase the effects of these blood-thinning medications due its anti-platelet and anticoagulant activity, making it less likely for platelets to stick together and form clots.
About This Article
This article is from the book:
This article can be found in the category: