When you're going shopping at a Spanish market for fresh fruits and vegetables, knowing the Spanish vocabulary for the foods you're buying can make your shopping endeavors much easier. Following are the Spanish words for some common frutas y verduras (fruits and vegetables).
Fruits
Spanish markets carry a host of fresh fruits, ripe for the choosing. Following are the names of fruits you find at the market.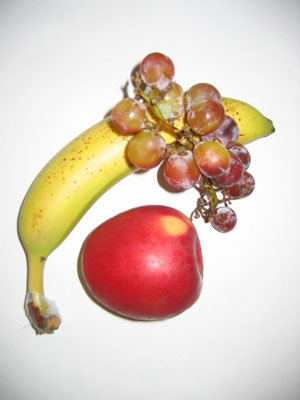 la cereza (lah seh-reh-sah) (cherry)

la ciruela (lah see-ro-eh-lah) (plum)

el durazno (ehl doo-rahs-noh) (peach)

la fresa (la freh-sah) (strawberry [Mexico, Central America, and Spain])

la frutilla (lah froo-tee-yah) (strawberry [from Colombia to the South Pole])

la guayaba (lah gooah-yah-bvah) (guava)

el higo (ehl ee-goh) (fig)

la lima (lah lee-mah) (lime)

el limón (ehl lee-mohn) (lemon)

el mango (ehl mahn-goh) (mango)

la manzana (lah mahn-sah-nah) (apple)

el melocotón (ehl meh-loh-koh-tohn) (peach [in Spain])

el melón (ehl meh-lohn) (melon)

la mora (lah moh-rah) (blackberry)

la naranja (lah nah-rahn-Hah) (orange)

la papaya (lah pah-pah-yah) (papaya)

la pera (lah peh-rah) (pear)

el plátano (ehl plah-tah-noh) (banana)

el pomelo (ehl poh-meh-loh) (grapefruit [in Mexico])

la sandía (lah sahn-deeah) (watermelon)

la toronja (lah toh-rohn-Ha) (grapefruit [in Mexico])

la tuna (lah too-nah) (prickly pear)

la uva (lah oo-bvah) (grape)
Vegetables
Fresh vegetables are always good. You can easily find the following: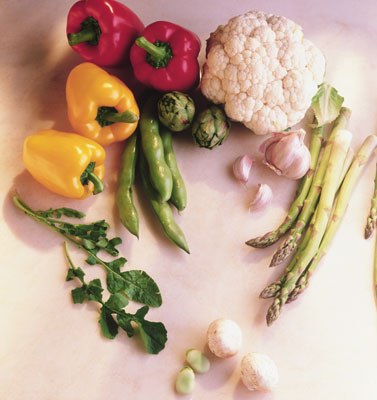 Credit: Ed Carey/Cole Group/PhotoDisc
A variety of fresh vegetables are available at Spanish markets.
las acelgas (lahs ah-sehl-gahs) (swiss chard)

el aguacate (ehl ah-gooah-kah-teh) (avocado)

el ají (el ah-Hee) (hot pepper [South America])

el ajo (ehl ah-Hoh) (garlic)

el brócoli (ehl bvroh-koh-lee) (broccoli)

la calabacita (lah kah-lah-bvah-see-tah) (zucchini [Mexico])

la calabaza (lah kah-lah-bvah-sah) (pumpkin [Central America and Mexico])

las cebollas (lahs seh-bvoh-yahs) (onions)

el chile (chee-leh) (hot pepper [Mexico and Guatemala])

el chile morrón (ehl chee-leh moh-rrohn) (sweet pepper [Mexico])

la col (lah kohl) (cabbage [Mexico])

la coliflor (lah koh-lee-flohr) (cauliflower)

la espinaca (lah ehs-pee-nah-kah) (spinach)

la lechuga (lah leh-choo-gah) (lettuce)

las papas (lahs pah-pahs) (potatoes); patatas (pah-tah-tahs) in Spain

la palta (lah pahl-tah) (avocado [South America])

el pimentón (ehl pee-mehn-tohn) (sweet pepper [Argentina, Chile, and Uruguay])

el repollo (ehl reh-poh-yoh) (cabbage [Argentina and Chile])

la zanahoria (lah sah-nah-oh-reeah) (carrot)

el zapallito (ehl sah-pah-yee-toh) (zucchini [Uruguay and Argentina])

el zapallo (ehl sah-pah-yoh) (pumpkin [South America])
About This Article
This article is from the book:
This article can be found in the category: