How to Add a Summary Link Web Part
How to Add a Summary Link Web Part
The home page of SharePoint 2010 publishing sites uses a Summary Link Web Part to display a list of tasks that one should perform. Somebody at Microsoft manually entered these Summary Links to provide you with a list of shortcuts to tasks commonly used in a publishing site. The steps here describe how to add a new Summary Link Web Part:
1

Insert the Summary Link Web Part on a page.

The Summary Links Web Part is located in the Content Rollup section.
2

Click the New Link button on the Summary Links toolbar on the Web Part itself.

The New Link Dialog Box is displayed.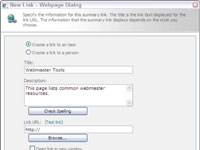 3

Enter the title and a description you want to display for the new Summary Link Web Part.

Fill in the Title and Description fields, respectively.
4

Enter a hyperlink in the Link URL field or click the Browse button to browse to the item you want to select.

The Browse button launches an asset picker that you can use to visually select the item.
5

(Optional) Select an image to associate with the link by entering the path to the image in the Image URL field.

Or, you can click the Browse button and browse to the image.