Outlook 2010 For Dummies Cheat Sheet
Outlook 2010 For Dummies Cheat Sheet
Sending e-mail has never been easier than it is in Outlook 2010. Now that the Ribbon interface has been added to Outlook, you'll find all the Outlook features you've come to love, plus many new ones. Use the handy Outlook 2010 For Dummies Cheat Sheet to orient yourself with Outlook's new look and feel. There's also a helpful table of Outlook shortcut keys.
Outlook 2010's Mail Home Tab
The Mail Home tab on Outlook 2010's Ribbon contains all the tools you need for daily e-mail messaging tasks as well as for managing the messages you accumulate and retain for reference. The following image shows you what each of Outlook 2010's Mail Home tab buttons does.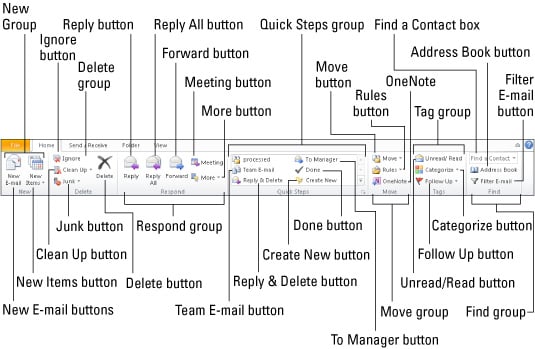 Outlook 2010's Calendar Home Tab
The Calendar Home tab on the Outlook 2010 Ribbon lets you choose how you prefer to view your appointments. You can choose among views for a Day, a Week, a Work Week, or a Month. You can also choose a Schedule view for seeing several schedules at once.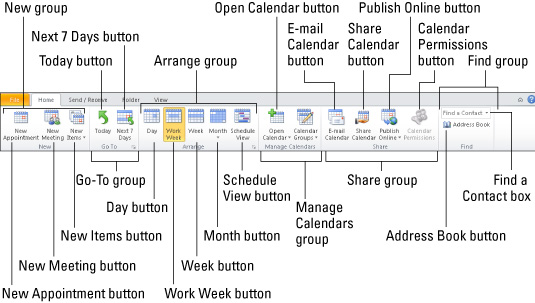 Outlook 2010's Contacts Home Tab
Outlook 2010's Contacts is more than just a list of names and e-mail addresses. You can take advantage of the Contacts Home tab on the Outlook 2010 Ribbon to create new contacts, to arrange the way you view the contacts you have, or to create e-mail messages or mail merge documents.

Outlook 2010's Task Home Tab
More than just e-mail, Outlook 2010 can help you schedule and track projects both personal and professional. In the Tasks Home tab on the Outlook 2010 Ribbon, you'll see tools for managing your workload more quickly and effectively. You can choose from a variety of views that help you keep track of pressing priorities.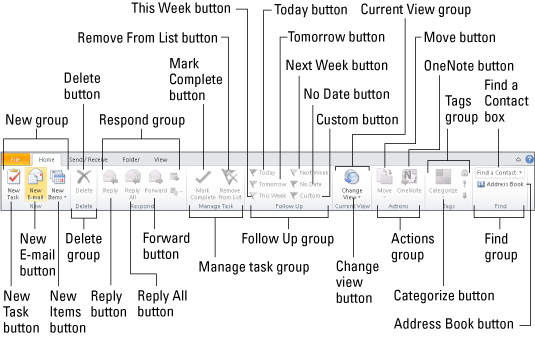 Outlook 2010's Notes Home Tab
You can store, find, and organize any random text data with the tools you see on the Notes Home tab on the Outlook 2010 Ribbon. With buttons for sorting, viewing, and categorizing your Outlook notes, you'll never need to stick a little yellow note to your monitor ever again.

Outlook 2010 Keyboard Shortcuts
You can get things done a lot faster when you use Outlook, and you can work faster still if you use Outlook's handy shortcut keys.
| This Shortcut | Creates One of These |
| --- | --- |
| Ctrl+Shift+A | Appointment |
| Ctrl+Shift+C | Contact |
| Ctrl+Shift+L | Contact Group |
| Ctrl+Shift+E | Folder |
| Ctrl+Shift+M | E-mail message |
| Ctrl+Shift+N | Note |
| Ctrl+Shift+K | Task |
| Ctrl+Shift+J | Journal entry |
| Ctrl+Shift+Q | Meeting request |
| Ctrl+Alt+Shift+U | Task request |
| Ctrl+1 | Mail |
| Ctrl+2 | Calendar |
| Ctrl+3 | Contacts |
| Ctrl+4 | Tasks |
| Ctrl+5 | Notes |
| Ctrl+6 | Folder List |
| Ctrl+7 | Shortcuts |
| Ctrl+8 | Journal |
| Ctrl+S or Shift+F12 | Save |
| Alt+S | Save & Close, Send |
| F12 | Save As |
| Ctrl+Z | Undo |
| Ctrl+D | Delete |
| Ctrl+P | Print |
| F7 | Check spelling |
| Ctrl+F | Forward |