How to Modify a Style in Word 2013
How to Modify a Style in Word 2013
Just as fashion styles change, you may need to change styles in your Word 2013 document. Nothing is wrong with that. In fact, by changing a style, you demonstrate the power of Word: Changing a style once causes all text formatted with that style to be updated. It beats the pants off making that change manually.
To modify a style, heed these steps:
1

Summon the Styles task pane.

Keyboard shortcut: Press Ctrl+Shift+Alt+S.
2

Point the mouse at the style you want to change.

A menu button appears on the right end of the style's entry.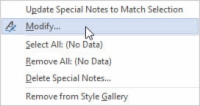 4

Choose Modify.

The Modify Style dialog box appears, although it's the same Create New Style from Formatting dialog box.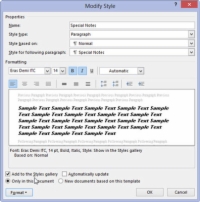 5

Change the formatting for your style.

Use the Format button to alter specific styles: font, paragraph, tabs, and so on. You can even add new formatting options or assign a shortcut key.