How to Assign a Shortcut Key to Your Modified Style in Word 2013
How to Assign a Shortcut Key to Your Modified Style in Word 2013
Style shortcut keys make formatting in Word 2013 even better because pressing Alt+Shift+T to apply the TextBody style is often faster than messing with the Style Gallery or the various task panes.
To give your style a shortcut key, follow these steps: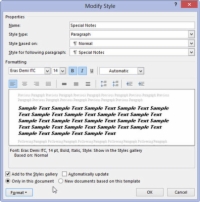 1

Create a Modified Style.

Your goal is to display the Modify Style dialog box for your soon-to-be shortcut-key-blessed style.
2

Click the Format button.

It dwells in the lower-left corner of the dialog box.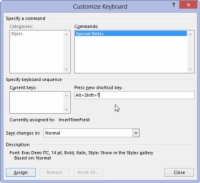 4

Press your shortcut key combination.

Notice that the key combination you press appears as text in the Press New Shortcut Key box. (See the center-right side of the dialog box.) If you make a mistake, press the Backspace key to erase it and then choose another key combination.

Most of the good shortcut key combinations have already been put to work in Word. For example, Word uses Ctrl+B as the Bold character-formatting shortcut key. You can use Ctrl+Alt and then a letter key for your style's shortcut. Most of the Ctrl+Alt key combinations are unassigned in Word.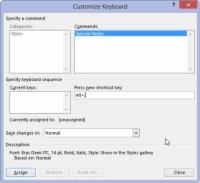 5

Confirm that the key combination you chose isn't already in use.

Refer to the text found below the Current Keys box. The text there explains which Word command uses the key combination you've pressed. When you see [unassigned], it means that your key combination is good to go.
7

Click the Close button.

The Customize Keyboard dialog box skulks away.
8

Click the OK button.

You can also close the Style task pane, if you're done with it.

Congratulations! You now have a usable shortcut key for your style. Try it out: Position the insertion pointer in a block of text and press the key. Ta-da! The style is applied instantly.