Save a PowerPoint 2007 Chart as a Template
Save a PowerPoint 2007 Chart as a Template
Perhaps you've created charts with your company's colors for a PowerPoint presentation. PowerPoint lets you save your chart as a template so you can reuse it. A PowerPoint chart template holds data series' colors, gridline settings, plot area colors, font settings, and the like. It doesn't hold data. Select the saved chart you want to save as a template and follow these steps to make a template out of it: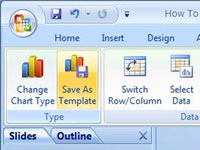 2

Click the Save As Template button.

You can find this button in the Type group. You see the Save Chart Template dialog box.