How to Save Your PowerPoint 2007 Presentation
How to Save Your PowerPoint 2007 Presentation
You've spent hours creating your Microsoft PowerPoint 2007 presentation, so now it's time to save it. Like everything else in PowerPoint, there are several ways to save a document or presentation: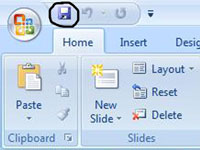 1

Click the Save button on the Quick Access toolbar.

They don't call it the Quick Access toolbar for nothing, do they?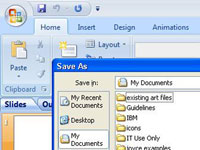 3

Press Ctrl+S.

If you haven't yet saved the file to your hard drive, the magical Save As dialog box appears.
4

Type a name for the file in the Save As dialog box and click OK.

After you save the file once, subsequent saves update the hard drive file with any changes that you made to the presentation since the last time you saved it.