How to Restore Lost Placeholders in PowerPoint 2007 Slide Masters
How to Restore Lost Placeholders in PowerPoint 2007 Slide Masters
If you play around with your PowerPoint Slide Masters, you may inadvertently delete a layout placeholder you need in your PowerPoint presentation. Suppose you deleted the footer placeholder from a Master and now you want it for your presentation. No problem!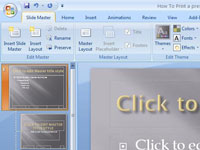 1

Switch to Slide Master View.

Click the Slide Master button in the Presentation Views group on the Ribbon.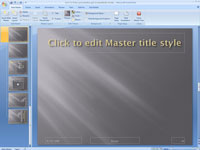 2

Select the Master with the missing placeholder.

Soon, the missing placeholder will be right back where it started.