How to Insert a Movie from the Clip Organizer into a PowerPoint 2007 Slide
How to Insert a Movie from the Clip Organizer into a PowerPoint 2007 Slide
If you have movie clips stored on your computer, PowerPoint lets you insert the movie from the Clip Organizer into a PowerPoint slide. To add a movie from the Clip Organizer into your PowerPoint presentation: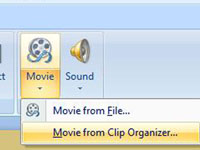 1

Click the down arrow next to the Movie button in the Media Clips group and choose Movie From Clip Organizer.

This calls up the Clip Art task pane to display movies that you can access from the Clip Organizer.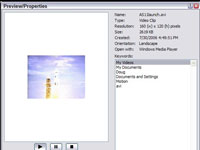 2

Click the arrow next to the movie and choose Preview/Properties.

This opens the Preview/Properties dialog box.
3

Review the movie.

Make sure it's the one you want.