How to Convert Old Charts to PowerPoint 2007 Charts
How to Convert Old Charts to PowerPoint 2007 Charts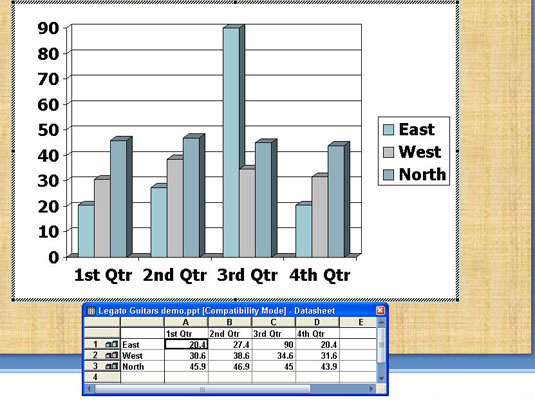 115
Right-click the MS Graph chart in your PowerPoint presentation and choose Chart Object—Edit.
MS Graph is open on your screen.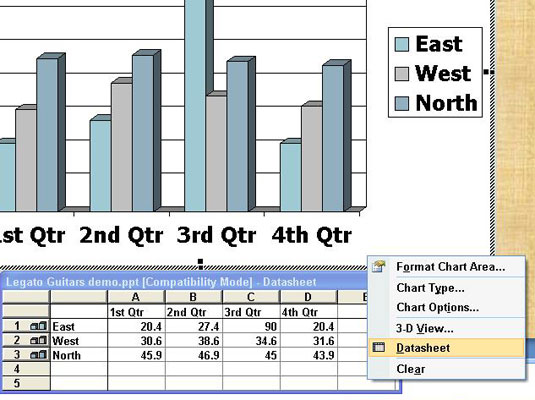 215
Click View Datasheet.
The datasheet appears holding the data used to generate the chart.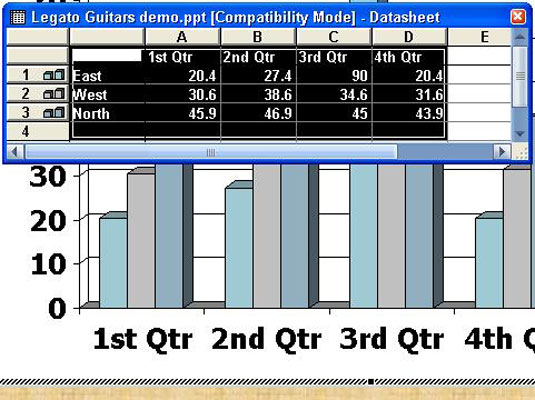 315
Drag over the data in the datasheet to select it.
This is the data you want the new chart based on.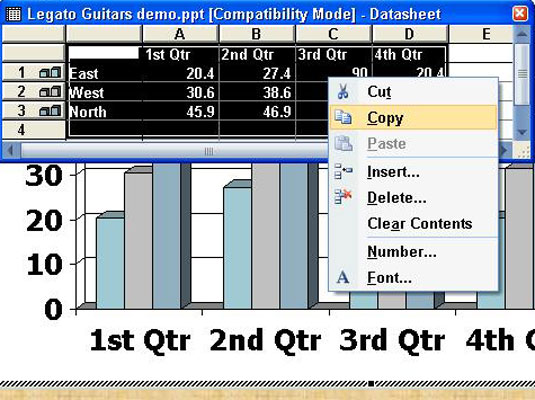 415
Right-click the selected data and choose Copy on the shortcut menu.
Your data is copied to the ClipBoard.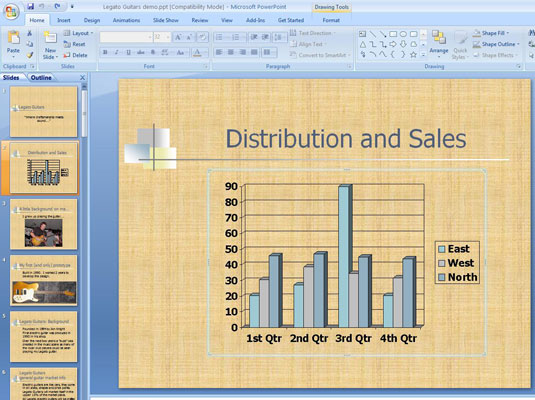 515
Click outside the chart to close MS Graph.
You return to PowerPoint 2007.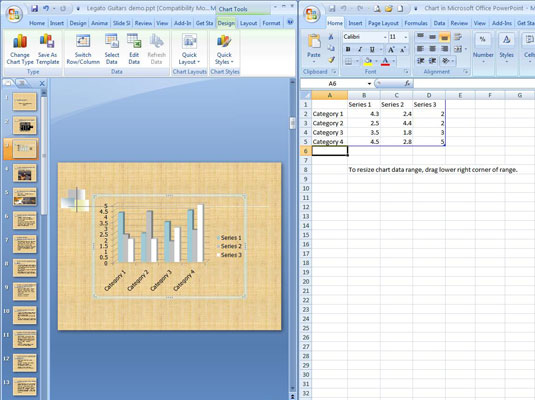 615
Create a new chart.
Be sure to choose the same type of chart you had before in MS Graph. An Excel worksheet opens so that you can enter data for the new chart.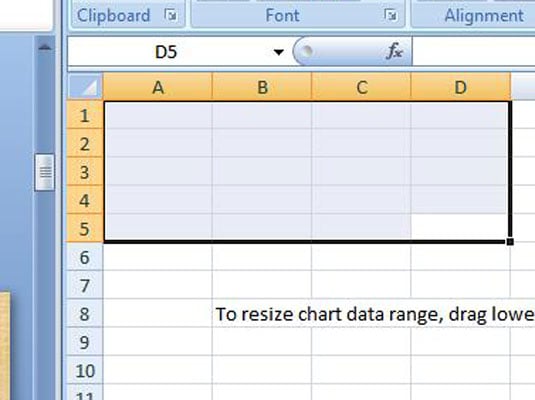 715
Delete the sample data in the Excel worksheet.
Be sure to complete this step. Without it, PowerPoint thinks you still want the same number of columns and rows in the worksheet as you had in the sample data.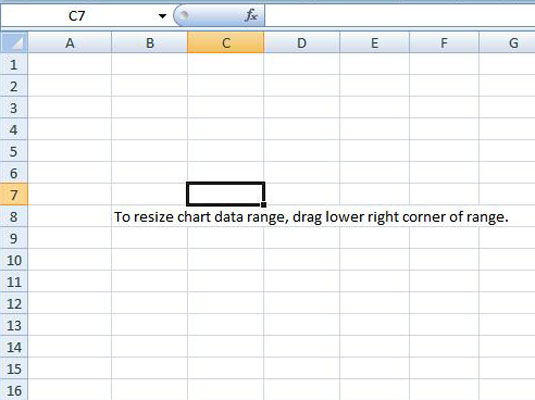 815
Click anywhere in the worksheet except in the highlighting
The highlighting is removed.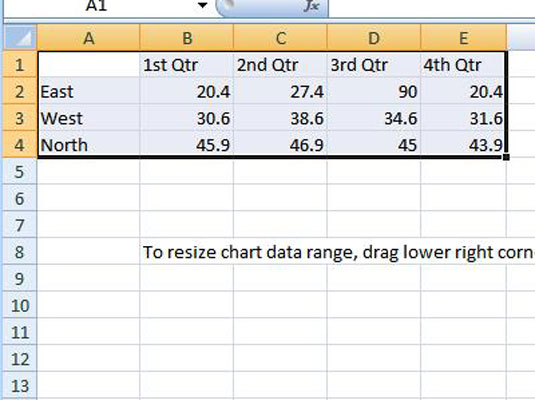 915
Right-click in the first cell in the worksheet and select Paste.
The data from your MS Graph chart is copied into the Excel worksheet.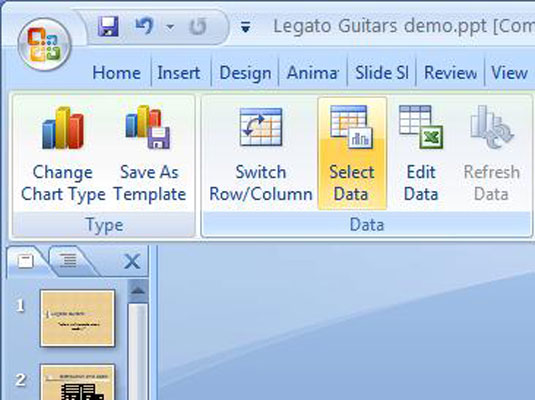 1015
Switch to the PowerPoint window, and with your chart still selected, click Select Data.
The data is selected.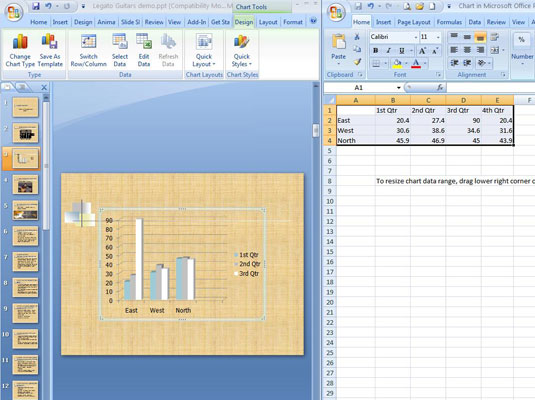 1115
Switch to the Excel window to which you copied data for your chart.
The Select Data Source dialog box appears.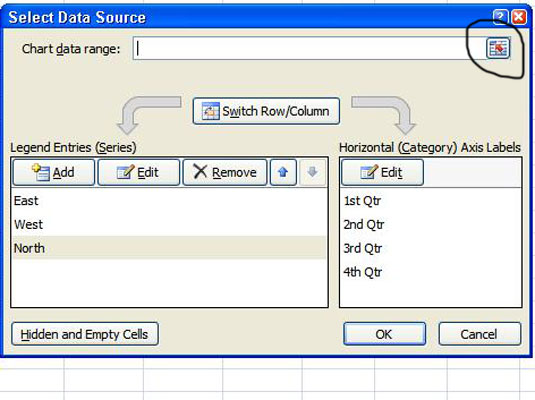 1215
Click the Chart Data Range button.
This button is located to the right of the Chart Data Range text box, in the upper-right corner of the dialog box.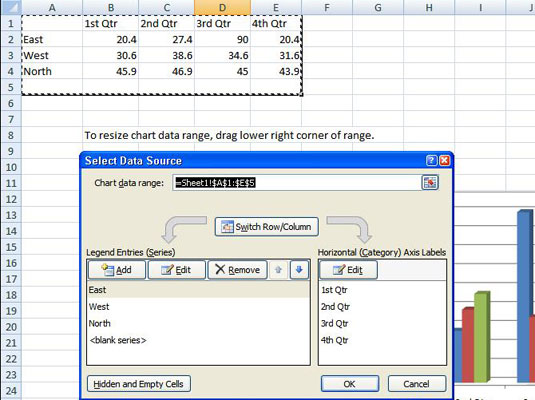 1315
Drag to select all the cells on the worksheet with the information that you want for your chart.
The Select Data Source dialog box lists the addresses of the cells you selected.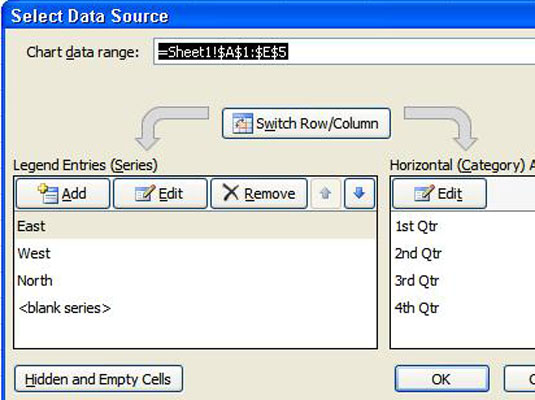 1415
Press Enter or click the Close button in the Edit Data Source dialog box.
The Select Data Source dialog box displays the names of the columns and rows you selected.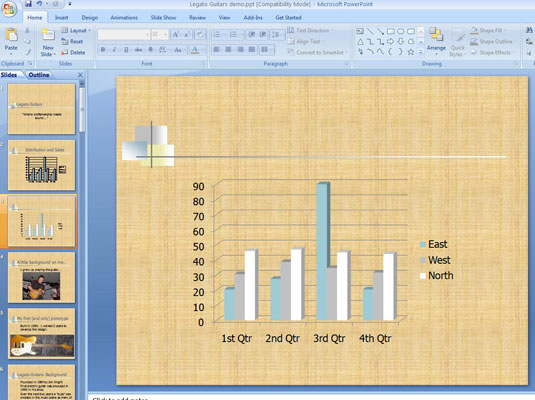 1515
Click OK in the Select Data Source dialog box.
Your PowerPoint 2007 displays the same data used to generate your MS Graph chart.