Record a Voice Note on Evernote for iOS Devices
Record a Voice Note on Evernote for iOS Devices
Sometimes, you're on the go and don't have time to type or tap and fix notes in Evernote on your iOS device, particularly with the "help" of autocorrection. You spend more time fighting your keyboard than getting stuff done. If you're hurrying to your next location, recording voice notes is the perfect way to catch your thoughts before they flit off into oblivion.
If you want to add notes or text to any of your recordings, you can do that, too. After you create your recording, just click in the note area and begin typing. Best of all, you can add the text from any device, not just desktop computers or laptops.
1

Launch your Evernote app on your device and tap the Text note icon.

The text note screen opens.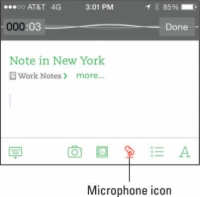 2

Tap the microphone icon on the home screen.

A new voice note is created.

The app starts recording right after you tap the microphone icon, so be ready to talk.
3

Begin speaking.

Recording length is only limited by the total size of the note. Free users can record up to 25MB in one note, while Premium users can record up to 100MB per note. The size of an audio recording will vary depending on the content of your recording and your device.