How to Track Received LinkedIn Invitations
How to Track Received LinkedIn Invitations
When growing your LinkedIn network, you should be responsive to others who want to add you to their LinkedIn connections lists. This is a key component of growing your network and, ultimately, being successful in your job search. To review your received invitations, follow these steps: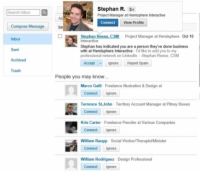 1

Click the Inbox link from the top navigation bar and then click the Invitations link on the left side of the screen.

You're taken to a list of your received invitations. You can hover your mouse over the person's name to see shared connections, and, with a click of the mouse, see his profile.
2

To accept a pending invitation, click the Accept button.

If you want to reply to the person without immediately accepting that invitation (say, to get clarification in case you don't recognize the person), click the drop-down arrow next to the Accept button and then select Reply (Don't Accept Yet) to open a new message to that person. You can also click the Ignore button to remove this invitation from your Inbox.

After you click Accept, Reply, or Ignore, that invitation disappears from your view.
3

Continue to act on each invitation in your list until there are no more new invitations.

Watch as your LinkedIn network grows!