How to Use Time Remapping for Your DSLR Film
How to Use Time Remapping for Your DSLR Film
Time Remapping, a new video editing feature, gives you more control over the time-space continuum (well, the one in your DSLR, anyway), allowing you to alter time in different ways throughout the same clip. For example, say you want to start the clip at normal speed, slow it down for a special effect, speed it up after that, and reverse a section. And that's all in one fell swoop.
1

Select a clip.

Make sure it's long enough to add all the effects you'll need and click it to select it.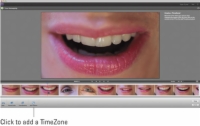 2

Open the Time Remapping tool.

Access it through the Tools menu on the Action Bar. As you can see, the control occupies the entire screen.
3

Select the part of the clip you want to add.

You'll notice the bottom of the screen contains thumbnails of the selected clip. Drag the CTI over the point where you want to add a TimeZone. That's the speed, or the direction, you want the clip to move.

4

Decide how much of the clip you want to change.

Click the Add TimeZone button. It creates a transparent lime-green box. Grab the handle and drag it to the desired length.