How to Show Your Digital Film on Facebook
How to Show Your Digital Film on Facebook
With around 1 billion active users, the social media site Facebook certainly provides an appropriate forum to show your DSLR film. Of course, how many people actually see it depends in part on your friends list, and how you can get others to check out your movie.
Facebook allows you to directly upload a video from your computer to the site, or you can add a link to YouTube if your video is posted there. If you want the video to play on your page, you need to be sure you're using an updated browser and have Adobe Flash loaded.
Current Facebook restrictions are as follows: The video should be less than 1,024 MB in size. Video length cannot exceed 20 minutes. The video must be yours, or you must have permission to share it.
Uploading a video to Facebook is relatively easy.
1

Make sure the video is properly formatted.

Just because you can upload a short, uncompressed QuickTime file doesn't mean that it's a good idea. Sometimes the file is too big. Instead, make an MP4 movie file and use the H.264 video codec and main-profile AAC for audio. Make sure your video doesn't exceed the size or time limits you see on the upload page.

2

Click Add Photo/Video at the top of your home page.

Click the Add Video pane and select Upload Photo/Video. Navigate to the desired file.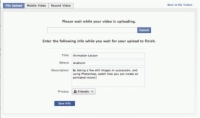 3

Post the video.

The filename resides on the dialog. Click Post and grab a cup of coffee. Actually, you can add some information like a description of the movie.
4

Share the movie.

Determine who gets to see it and tag them. It's pretty self-explanatory because you already know Facebook; otherwise, why would you post a video?