How to Share Your Digital Film on YouTube
How to Share Your Digital Film on YouTube
When it comes to sharing your DSLR video, YouTube is the de facto standard. The video-sharing website lets users upload, view and share videos. It uses Adobe Flash Video and HTML5 technology to display user-generated video content like viral video, music videos, and movie clips. Content is provided both by media corporations and individuals.
YouTube has more than 3 billion video views per day. That means your content has the potential to be viewed by a lot of people. Of course, they can only watch if they know it's out there. If you're not ready for such an audience, you can make your movies private and send would-be viewers and invitation to see it.
Some things you should know about YouTube:
It supports a variety of file formats and allows for some formats to upload in full HD.
Video length cannot exceed 15 minutes, unless you verify your account.
The videos you upload must be yours, or you must have permission to share them. If you do not have permission, YouTube can remove it at the rights-owner's request.
YouTube provides basic analytics to all. These include the number of page views, user comments, and the amount of "likes."
Uploading a video to YouTube is relatively easy.
2

Go to top of page and click Upload.

The upload screen appears.
3

Select the video you want to upload.

The site offers several choices, including Upload Multiple Files, Record from webcam, and Select Movies from Your Computer. Choose the latter, and then click that choice and navigate to your video.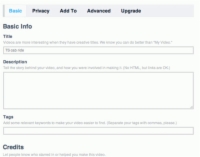 4

Add metadata while uploading.

Depending on file size and length, uploading can take an hour or more. Use this time to properly name the movie and fill out the Basic Info fields.