How to Create a Rolling Title for Your Digital Film
How to Create a Rolling Title for Your Digital Film
Most of the time, a static title works for your DSLR movie needs. But occasionally, you'll want to make your titles move. Rolling titles move characters vertically up the screen and are commonly used for production credits. They always move from the bottom to the top of the screen. Think of the end of a movie and the credits that quickly pass by.
Sometimes you want to let the text crawl across the screen. Crawling titles move characters horizontally. You can use them several ways, including as a ticker on the bottom of the screen.
To make either type, try the following: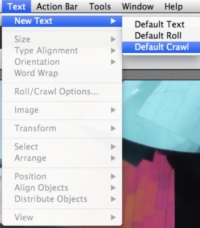 1

Place the CTI where you want the moving title to play.

Select Text→New Text→Default Crawl. You see it in the monitor panel.
2

Type the desired text.

In the Monitor panel, input the text. You can either backspace or highlight and retype it.
3

Make adjustments to text.

Use the Adjustments panel to alter font type, size, color, and a variety of other choices.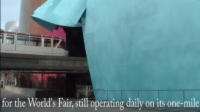 4

Place the title.

When you're satisfied with the font and size and other stuff, click the Selection tool on the Adjustments panel and drag the title to the appropriate place on the image.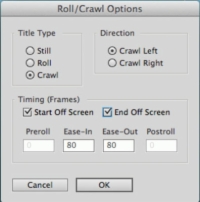 5

Alter its screen duration.

To change screen time, grab the end of the title in the timeline and drag it to the desired time. For more precise control, go to Text→Roll/Crawl Options and adjust the settings as you like.

To help control the moving titles, here is a breakdown of the Options dialog:

Title Type: Refers to the type of title (still, crawl, or roll).

Direction: Applies to crawl and lets you pick the direction of the crawling text.

Timing/Frames: Lets you start and end the text on- or off-screen.

Preroll: Specifies the number of frames that play before the effect begins.

Ease-In: Determines the number of frames the effect takes to get to proper playback speed.

Ease-Out: Determines the number of frames the effect takes to get to proper playback speed. Specifies the speed going out of the effect.